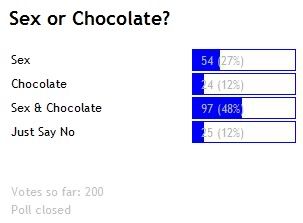 Sex or Chocolate Poll Results
Looks like most people wouldn't mind the opportunity to mix it up as far a sex and chocolate is concerned. Sounds fun, but some believe that saying no to sex, and chocolate is possible! Perverts! Just kidding.
The poll was conducted during the Month of February 2007, and asked which was best: Sex, Chocolate, Sex and Chocolate, or Just Saying No. There were two hundred votes placed.