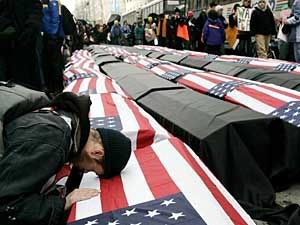 The flags draped upon your coffins flutter softly in the summer breeze.




You brave souls were vanquished, leaving a pain that will not ease.




Your families hold their memories of you within their hearts so strong.




Their love for you can not be shattered by bullet, mine, or bomb.




While I did not know you, I think of you this way.




My words betray the pain I feel, there's little more to say.




Another Sister, another Brother, came home to us today.




Another Father, another Mother, for your valiant souls we pray.




Thank you for your sacrafice, our freedom to you we owe.




Our pledge is to understand your deeds, to care, to remember, and to know.

.




.
Casey Sheehan


Learn more about Casey, and Casey's Mother Cindy Sheehan, who has been attempting to speak with President Bush here.