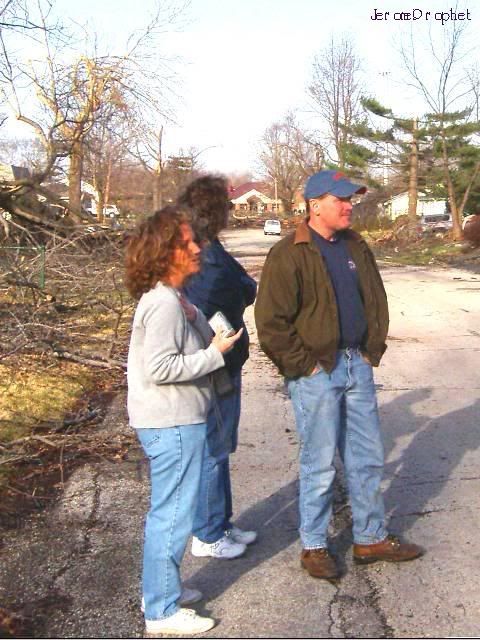 Photo: Jerome, Illinois - Residents Assess Tornado Damage
As I walked through the Village of Jerome on the morning of March 13th, 2006 I found many small groups of residents gathering at various locations to survey tornado damage to their neighborhoods. The little group featured in the photograph above is standing at the corner of Corbin, and Vernon. One holds a camera, while the others look upon the destruction. Note the downed trees in the background. The pine tree to the right was sheared off as if cut by a giant pair of scissors.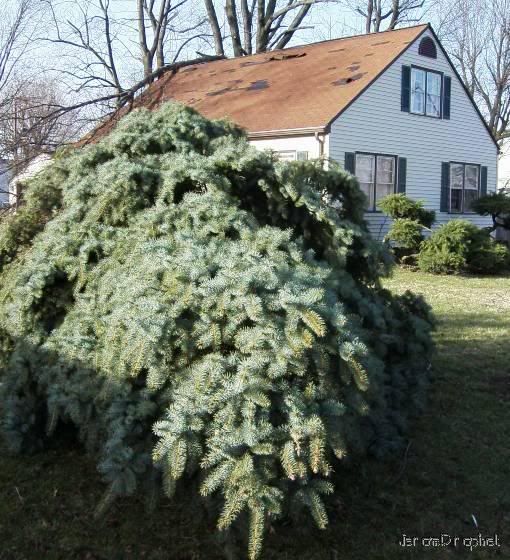 Photo: Jerome, Illinois - @ Corbin & Vernon - Evergreen
I saw many beautiful evergreen trees damaged, and destroyed by the tornado. Many looked like the perfect Christmas tree. I couldn't help but think that this evergreen would have cost hundreds of dollars if it had been purchased from a Christmas tree lot only three months earlier. What a waste of a beautiful evergreen tree.
Photo: Jerome, Illinois - Broken Power Pole Cross Beam
I thought of the photo above when I read in the State Journal Register that City Water Light, and Power had to purchase one thousand power pole cross beams to replace those broken by the tornado which stuck Jerome, and Springfield, Illinois. Many power lines were barely hanging from power poles, and many lay about the ground.
While I knew that the power lines were not electrified, I always feared that somehow I'd be the victim of a freak accident in which I managed to find the one downed power line which still had electricity running through it. Because of this lingering fear, I always avoided direct contact with these lines.
Photo: Jerome, Illinois - Broken Fence - Tornado Oddity
The owner of the property where I took this photo (corner of Corbin, and Jerome Ave) said he was lucky not to have had much damage - except to his fence which was partially destroyed. He showed me an oddity created by the high wind velocity of the tornado. A part of his fence became wedged between two fence slats. It was blown there at high velocity - a nail appears to have stopped it from travelling completely though.
Photo: Jerome, Illinois - Spring Trees Filled With Buds, And Insulation
Along Jerome Avenue I noticed that many trees were streaked with insulation from businesses on Wabash Avenue. Notice the horizontal streaks of insulation. The insulation isn't just hanging from the branches like it was thrown there, instead it is streaked in the branches as if it were blown there with great horizontal force. Streaks of insulation appeared in trees several blocks away, and appears to have been carried along with the tornado as it moved to the north east.
Photo: Jerome, Illinois - Grass, Shingles, Insulation & Safety Glass
Walking around Jerome, Illinois the morning after the March 12th, 2006 tornado demanded caution. A big concern which I had was stepping on a shingle with a roofing nail. There were roofing shingles everywhere, and many had nails sticking straight up. A misstep would have meant taking a trip to the hospital for a tetanus shot. The photograph above was taken of the ground on Jerome Avenue just behind the now closed Putt Putt miniture golf course.
Jerome, Illinois' 2006 Tornado - Wabash Avenue I
Jerome, Illinois' 2006 Tornado - Wabash & Chatham
Jerome, Illinois' 2006 Tornado - W. Jerome Ave
Jerome, Illinois' 2006 Tornado - Corbin & Jerome
Jerome, Illinois' 2006 Tornado - Corbin Street
Jerome, Illinois' 2006 Tornado - Reed Avenue
Jerome, Illinois' 2006 Tornado - Jerome Municipal Building
Jerome, Illinois' 2006 Tornado - Vernon Avenue
Jerome, Illinois' 2006 Tornado - Fillmore Street
Jerome, Illinois' 2006 Tornado - Glenn Avenue
Lauterbach Tire & Auto's Headless Giant