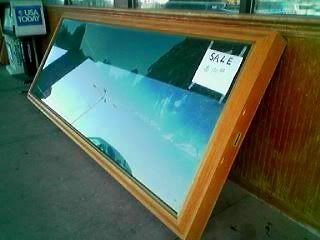 Photo: Buffet City Sells Wall Adornments Spring 2007


I'm using my blog to "scrap book" the following article obtained from the ICE website.

Buffet City was a popular Chinese eatery in Springfield, Illinois. The restaurant was closed after an immigration raid in 2006. I include (above) a photo which shows the sale of the large posters which adorned Buffet City's walls. Asking price was $150 each. I snapped the photo early spring 2007.
SPRINGFIELD, Ill. - The two owners of a Springfield restaurant were indicted yesterday for money laundering, and for harboring and employing illegal aliens at the restaurant. The indictment resulted from a worksite enforcement investigation by U.S. Immigration and Customs Enforcement (ICE).
Rodger A. Heaton, U.S. Attorney for the Central District of Illinois, announced that the owners of Buffet City restaurant, 1774 Wabash Ave., Springfield, were charged by a federal grand jury yesterday. The 10-count indictment charges Xiang Hui Ye, 28, of 3304 Haviland Dr., and Xian Xi Ye, 39, of 2709 Kipling Dr., with one count each of harboring and employing illegal aliens, and eight counts of money laundering.
Both defendants were charged in a criminal complaint filed Sept. 20. Hui Ye, a Chinese citizen who was granted asylum in the U.S., was arrested Sept. 20, and Xi Ye, an illegal alien from China, was arrested Sept. 28. Both remain temporarily detained pending hearings scheduled on Oct. 10 before U.S. Magistrate Judge Byron G. Cudmore.
The indictment alleges that from January 2005 through Sept. 20, 2006, the two men provided housing, employment and transportation to illegal aliens for commercial advantage and financial gain, and that they knowingly hired and recruited illegal aliens to work at their Buffet City restaurant. The money laundering charges allege that one or the other of the defendants signed checks to pay for apartment rental used to house illegal aliens.
If convicted, the statutory penalty for the felony offense of harboring illegal aliens is up to 10 years in prison for each alien. For the misdemeanor offense of hiring or recruiting illegal aliens for employment, the penalty is up to six months in prison and a fine of $3,000 for each illegal alien. For each charge of money laundering, the penalty is up to 20 years in prison.
"ICE aggressively targets employers who knowingly and recklessly employ an illegal alien workforce," said ICE resident agent-in-charge Greg Archambeault who heads the Springfield office. "Today's enforcement action demonstrates how we use all our investigative tools to go after those who take advantage of illegal labor to make a profit."
Assistant U.S. Attorney Patrick J. Chesley, in the Springfield Division of the U.S. Attorney's Office, is prosecuting the case. The U.S. Department of Labor assisted ICE with the investigation.
Members of the public are reminded that an indictment is merely an accusation; the defendants are presumed innocent unless proven guilty.
The public is encouraged to report suspicious behavior by calling ICE's toll-free hotline: 1-866-3472423.
This investigation was part of the Secure Border Initiative (SBI), a comprehensive multi-year plan by the Department of Homeland Security to secure America's borders and reduce illegal migration. Under SBI, Homeland Security seeks to gain operational control of both the northern and southern borders, while re-engineering the detention and removal system to ensure that illegal aliens are removed from the country quickly and efficiently. SBI also involves strong interior enforcement efforts, including enhanced worksite enforcement investigations and intensified efforts to track down and remove illegal aliens inside this country.
-- ICE --