Friday, May 04, 2007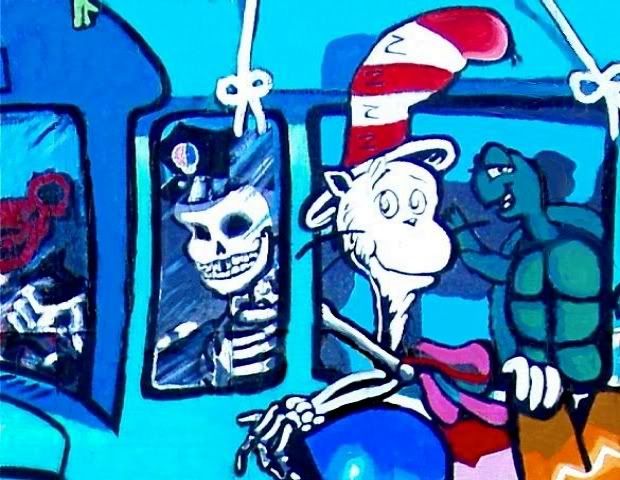 Grateful Dead Skeleton, Cat in the Hat, and ?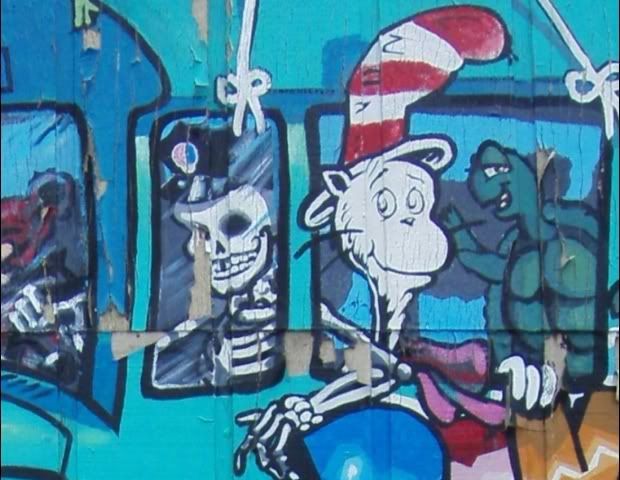 Grateful Dead Skeleton and Cat in the Hat
Posted by

JeromeProphet
at 5/04/2007 11:03:00 PM
No comments:
Links to this post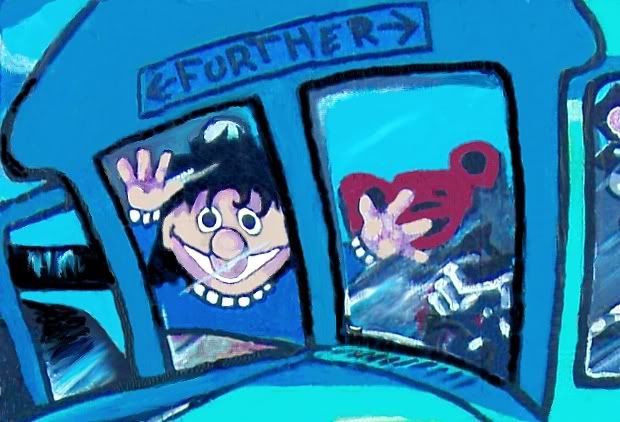 Digitally Restored Sesame Street's Ernie Is Happily Seated Next to Death - The Driver
.
Not sure what the creature seated behind Ernie is. Maybe it's a lion, or a bear? Big ears, and purple is all that I can come up with. Could it be a Grateful Dead Bear? Ernie played many roles on Sesame Street as I recall. The Ernie in the Penny Lane Mural is a long haired rock star version of Ernie.
Not seen in this close up are Darth Vader to the left. Darth is hanging out of the entrance of the bus with light sword in hand. To the right of Ernie (also not seen) is a skeleton man, in the Grateful Dead style. Mr. Bones is definitely driving the bus folks. Ernie seems unconcerned.
The name of the bus "Further" is a reference to "The Bus" which was a psychedelically painted school bus used in a 1964 cross country bus trip. Ken Kesey and his Merry Pranksters brought plenty of acid, and every other kind of drug along for the tour. The bus was crammed with rock amplifiers, and musical instruments. The tour influenced a generation helping to kick start the counter culture revolution of the 1960s.
.
.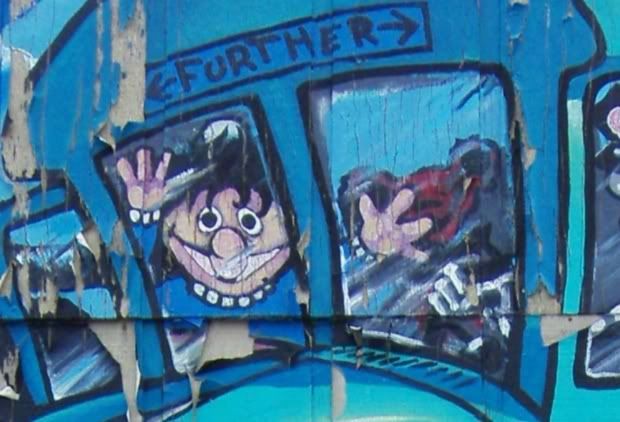 Ernie of Sesame Street Fame Is Prominently Featured On The Penny Lane Mural
Thanks to my readers I have now correctly identified Ernie as Ernie, and not his sidekick Bert.
Ernie is seated in the front most passenger seat on the Penny Lane Bus. Penny Lane is located in Springfield, Illinois. The exotic novelty shop is covered in murals. I am presenting a segment of the Penny Lane Mural here in digital format.
I have digitally restored the mural for presentation here, but the actual mural, despite needing a revamp is even better. Go visit Penny Lane. It's a neat little shop, and check out the murals on your way in.
Posted by

JeromeProphet
at 5/04/2007 01:56:00 PM
4 comments:
Links to this post


Wednesday, May 02, 2007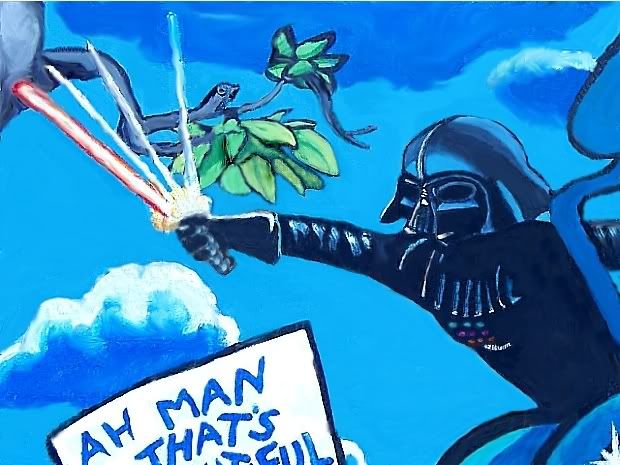 Darth Vader With Light Saber - Penny Lane Mural - Springfield, Illinois
Mostly Restored.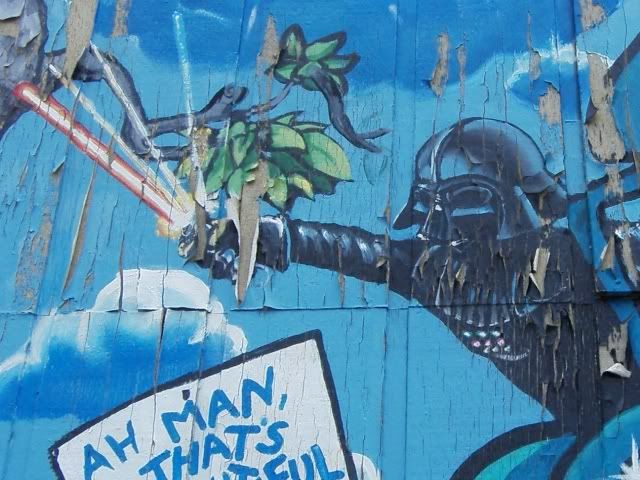 Penny Lane Digital Mural Restoration
Darth Vader
Posted by

JeromeProphet
at 5/02/2007 12:06:00 AM
2 comments:
Links to this post


Sunday, April 29, 2007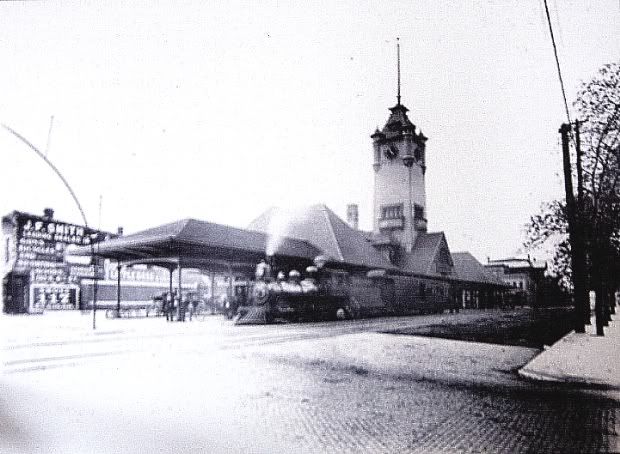 Union Station (1879) Located In Springfield, Illinois Holds Many Intriguing Secrets
.
Union Station In Springfield, Illinois has seen many incarnations over the last century. Now as a part of the prestigious Abraham Lincoln Presidential Library and Museum the station's past is carefully being rewritten. As state and local officials attempt to present a friendly facade for tourist the station's real history is being hidden.
.
.
Elderly Psychic Inspects & Sanctifies Springfield, Illinois' Union Station On Opening Day
The photographs which appear within this post were taken at Union Station on its opening day. The station is to act as a portal to the Abraham Presidential Library and Museum and other Abraham Lincoln related historic sites throughout the region. Few tourist seem to know that Union Station was built after Abraham Lincoln's assassination, and fewer seem to appreciate Union Station's dark past.
.
.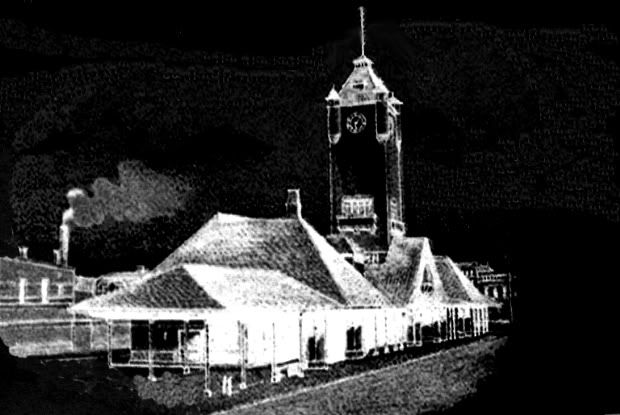 Drawing Of Union Station As It Was One Hundred Twenty Five Years Ago
Photographs of an elderly gentleman appear within this post. To the casual bystander the elderly gentleman, and his young female assistant may have looked as if they were ordinary tourist. However to the initiated it was obvious that the old man was in the midst of performing a sanctification ritual.
The elderly man walked with a cane as he moved slowly from one room to another within the station. He held a Bible in one hand and large silver Crucifix hung around his neck. He quietly glanced into his Bible and read in Latin, and would pull holy water from his pocket thrashing his arms about during this secret blessing.
.
.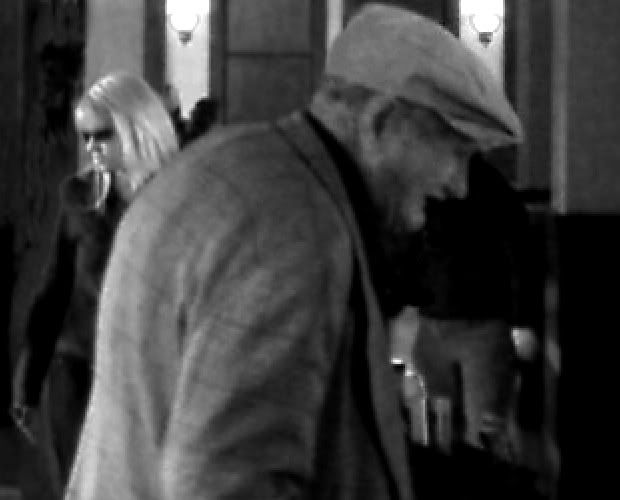 Assistant (Background) Watches Over Elderly Psychic During Sanctification Ceremony
Hobbling about with his cane his assistant seen in the background of the photograph above kept careful watch as the elderly man continued on with his incantations.
.
.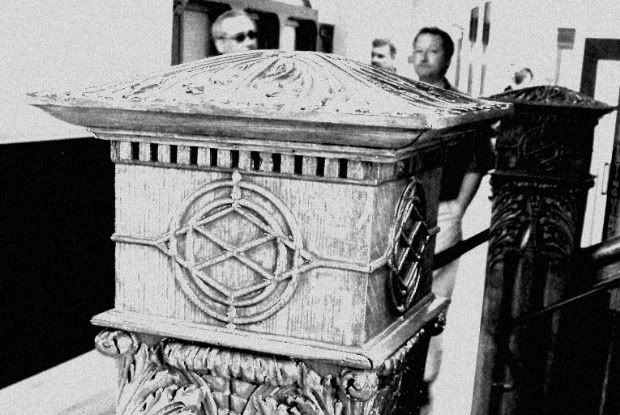 Clues Abound - Union Station's Masonic Origins Still Evident
Large Parts of Union Station are forbidden to the public. During my visit I was under constant surveillance. Just taking these photographs in the non-forbidden areas brought unwanted attention.
.
.
Union Station Springfield, Illinois On Opening Day - March, 2007
.
While I still recommend any tourist visiting Springfield, Illinois take the time to visit Union Station, do not attempt to bypass ALPLM security to ascend the clock tower, or attempt to descend to the subterranean level. It is both forbidden, and dangerous, and could land you behind bars.
Posted by

JeromeProphet
at 4/29/2007 12:17:00 PM
No comments:
Links to this post