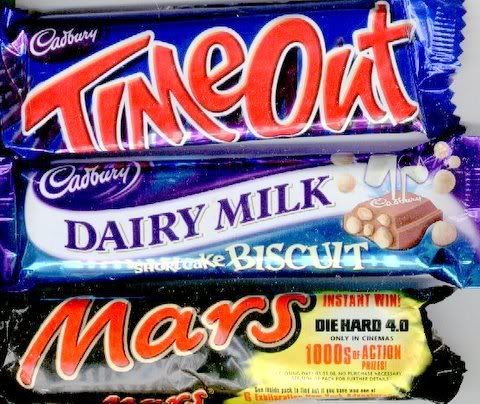 Scanned These "English" Candy Bars
My daughter pulled these out of her purse. They came back from London with a friend of hers. Funny thing is they were all made in Ireland. The Mars Bar was made in Dublin. The Cadbury bars were not that good actually. The Cadbury Time Out was most awful. I don't know if there's some sort of chocolate shortage in England-Ireland, but they need to add more chocolate to their chocolate bars - listen to me. Even the Cadbury Dairy Milk Bar, what a horrible name, wasn't that good, even though it did have more chocolate. Quite bland.
I don't really like candy bars, but that's not to say that I don't enjoy a bar of dark chocolate several times a week, but I can say that these candy bars were not very tasty - and from Europe I might add. There really is a difference between a candy bar, and a chocolate bar.
The chocolate bars which I find myself consuming most often come over from Germany, Switzerland, and France. European chocolates are available at Walgreen's, and other chain stores, and are a real bargain.
Just a few decades ago you could hardly find good European chocolates here in the states, but no more.
A few days ago my daughter gave me a chocolate bar which she bought at Walgreen's which came from Poland! That chocolate bar wasn't so good, but it still beat all the crappy Hershey's bars that line the rows of American Grocery store checkouts.
Speaking of Hershey's they are offering a premium line of dark chocolates, which are actually quite good for a Hershey's product. It took Hershey's a very long time to enter into the dark chocolate competition, but they are not only good, but better priced than some of the European chocolates.