Bryon Helsel of Frosty's Trees - Wabash Avenue - Jerome, Illinois
.
This post features the Helsel family's Frosty's Trees Christmas tree outlet. Frosty's Trees operates its Christmas tree outlet each year from Ace Hardware located at 1600 Wabash Avenue in Jerome, Illinois. This year marks Frosty's 25th annual visit to Springfield, Illinois.
.
.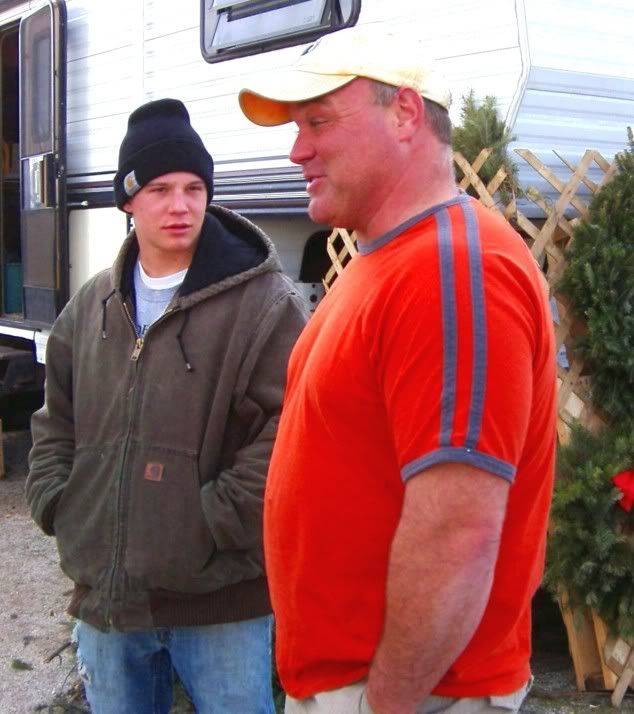 Kolby Helsel and Father Bryon Helsel Of Frosty's Trees - Springfield, Illinois
.
Frosty's Trees is owned, and operated by the Helsel family. The Helsel Christmas tree farm is located outside of Lake City, Michigan. Bryon Helsel, and son Kolby Helsel represent the fourth, and fifth generations of the Helsel family business, which has been in operation for nearly three quarters of a century.
.
.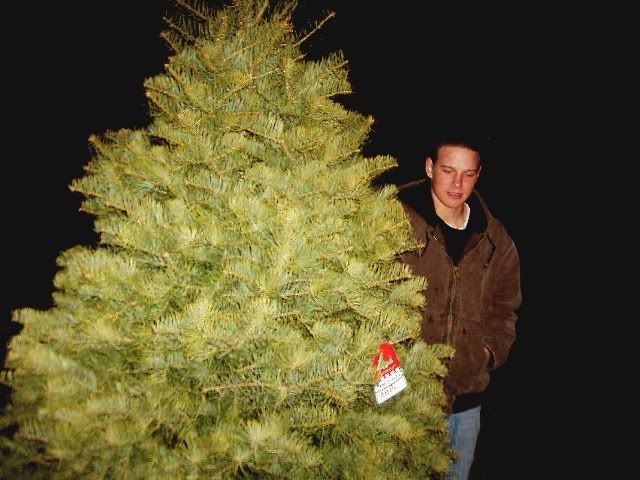 Kolby Helsel of Frosty's Trees Holds White Pine - Jerome, Illinois
.
Several members of the Helsel family travel to Springfield, Illinois each year to operate Frosty's Trees, while other family members travel to other cities throughout the Midwest. Frosty's Trees opens the week before Thanksgiving, and closes business two days before Christmas. The Helsel family usually bring an assistant, and live in a recreational vehicle during their one month stay in Springfield.
.
.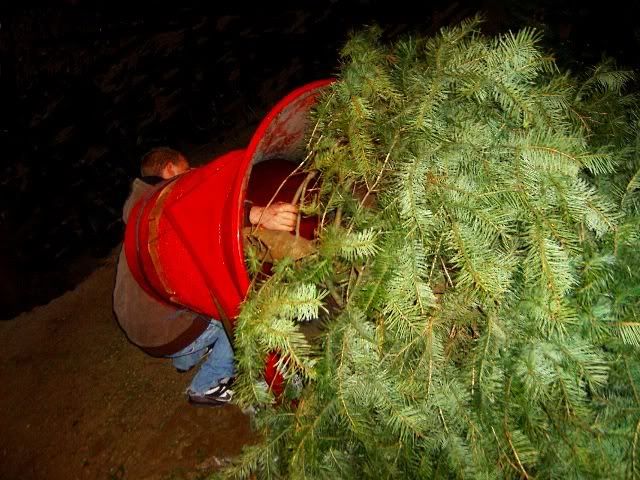 Kolby Helsel of Frosty's Trees With Douglas Fir - Springfield, Illinois 2006
The Helsel family is an established name in the Christmas tree industry. Michigan accounts for ten percent of Christmas trees sold in the U.S., and the area in which the Helsel's farms are located is one of the most productive in Michigan.
In an
article on the Lake City Michigan area
Elizabeth Johnson states,
"Lake City is the hub of a five-county region in north-central Michigan that supplies about 10 percent of the 35 million fresh Christmas trees purchased annually in the United States. In Missaukee County alone, where Lake City is the county seat, rows of Fraser and Douglas firs, Scotch and white pines, and Colorado and blue spruce cover 6,500 acres of land on 40 Christmas tree farms. No wonder the town bills itself as the nation's Christmas Tree Capital".
.
Google & TerraMetrics (c) Helsel Family Owns Many Tree Farms East of Lake City, Michigan
.
More Information About Helsel Family Tree Farms


According to

an online Christmas tree grower profile

, the Helsel family holds nearly one thousand acres of Christmas tree farmland in
Missaukee County, Michigan.
.
.
Image From Helsel North Country Pines Website: (Edited) Christmas Tree Paradise
Here's a link to an interesting website featuring one of the Helsel family's
North County Pines Christmas tree farms. The site includes descriptions, and photographs of several varieties of Christmas trees which are grown in the North Central Michigan area. It also provides a bit of Helsel family history.
Finally, here's a link to the

Jerome Prophet's Springfield

article which appeared in the Illinois Times featuring Frosty's Trees - December of 2006..
.