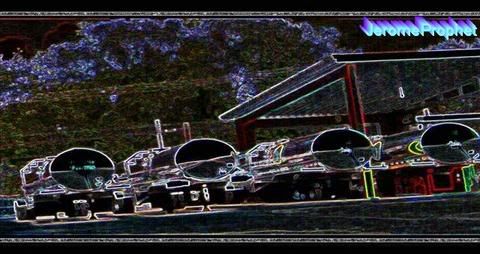 I am struck by the almost desperate beauty of ColdPlay's music. Infused with sad meaning, that reaches into my heart. We are all together, yet separated by an ocean of alienation that can never fully be crossed. The existential voyage is made less unbearable by art, music, poety, literature, and love.

The image above was created under the influence of ColdPlay. Taking the mundane, and finding meaning, and beauty, that would be every poet's ambition.

Any guesses as to what this image was based upon, or where the original photo was taken? A hint is in the title.


ColdPlay


Yellow

Look at the stars,
Look how they shine for you,
And everything you do,
Yeah they were all yellow,

I came along
I wrote a song for you
And all the things you do
And it was called yellow

So then I took my turn
Oh all the things I've done
And it was all yellow

Your skin
Oh yeah your skin and bones
Turn into something beautiful
D'you know you know I love you so
You know I love you so

I swam across
I jumped across for you
Oh all the things you do
Cause you were all yellow

I drew a line
I drew a line for you
Oh what a thing to do
And it was all yellow

Your skin
Oh yeah your skin and bones
Turn into something beautiful
D'you know for you i bleed myself dry
For you i bleed myself dry

Its true look how they shine for you
look how they shine for you
look how they shine for you
look how they shine for you
look how they shine for you
look how they shine
look at the stars look how they shine for you



ColdPlay
In My Place

In my place, in my place
Were lines that I couldn't change
I was lost, oh yeah

I was lost, I was lost
Crossed lines I shouldn't have crossed
I was lost, oh yeah

Yeah, how long must you wait for him?
Yeah, how long must you pay for him?
Yeah, how long must you wait for him?

I was scared, I was scared
Tired and underprepared
But I wait for you

If you go, if you go
Leaving me here on my own
Well I wait for you

Yeah, how long must you wait for him?
Yeah, how long must you pay for him?
Yeah, how long must you wait for him?

Please, please, please
Come on and sing to me
To me, me

Come on and sing it out, out, out
Come on and sing it now, now, now
Come on and sing it

In my place, in my place
Were lines that I couldn't change
I was lost, oh yeah
Oh yeah