Caption: Abraham Lincoln Presidential Museum Springfield, Illinois - The Edge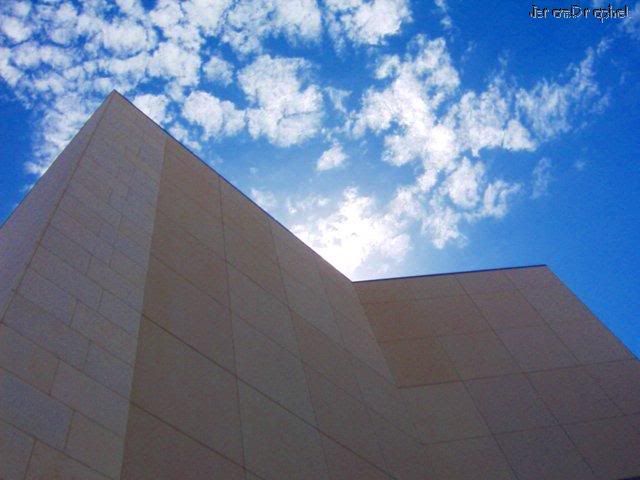 Caption: Abraham Lincoln Presidential Museum Springfield, Illinois - The Summit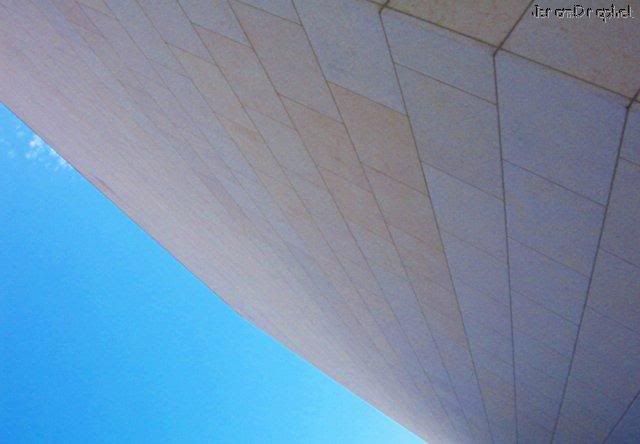 Caption: Abraham Lincoln Presidential Museum Springfield, Illinois - The Wall

Suffering, and Beauty share a presence in life.

Nature, and Man's greed and neglect have brought horrible hardship to millions of our brothers and sisters living along the Gulf Coast this week.

Thousands of Americans have died in New Orleans, one of the most beautiful, and culturally unique cities in the United States.

Many have lost their homes, their jobs, their sense of well being, and purpose.

As we struggle to put this tragedy into a context thus attempting to draw meaning from loss, and suffering, let us not dispair.

For we live in a beautiful world.

The photographs above were taken Friday September 2nd, 2005. The images were captured from the north east corner of the Abraham Lincoln Presidential Museum located at the intersection of Madison, and Seventh Streets in Springfield, Illinois.

The Egyptian limestone set against the blue sky, and lacey clouds create a monolithic feel.

The first time I encountered

The Wall

I knew I would have to photograph it. As I captured these photographs, a grounds keeper offered to move from the scene so as not to be included in the images - it wasn't a problem.

As she tended her flower garden I mentioned the Egyptian limestone, and the monolithic beauty of

The Wall

. The grounds keeper looked up at

The Wall

, and said, "You know, I've been coming out here tending the flower garden for several weeks now, and I hadn't noticed the beauty of this wall until you just mentioned it". She then thanked me.

Sometimes beauty surrounds us, but we just don't notice until someone takes note.

The mood, and title for this post were inspired by the song

Don't Panic

by ColdPlay, the words of which seem tailor made for healing any beaten soul which has endured the slings, and arrows which assault us all in some way or another along the trodden path of existence.

Remember, don't pass up the opportunity to help those struggling with the effects of Hurricane Katrina. Below are some links to some reputable charities:

http://www.redcross.org/

http://www.salvationarmyusa.org/

http://www.charitynavigator.org/


.




All photographs for this posting were taken by JeromeProphet of Jerome, Illinois were taken in downtown Springfield, Illinois.

.