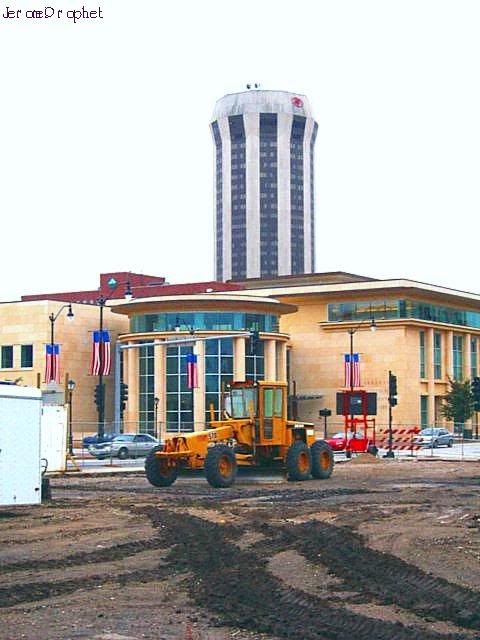 Photo: ALPLM Union Station Park Project 10.21.05
Photo: Pile of Broken Cement - Union Station Park Project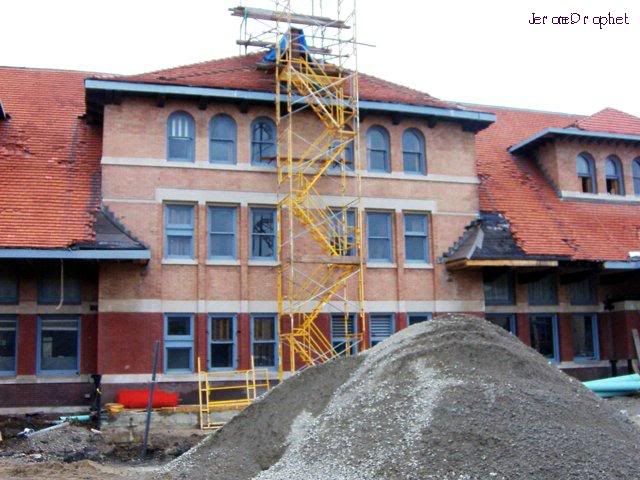 Photo: Union Station Project - Pile of Gravel 10.21.05
This post presents three more photographs of Union Station, and Union Station Park. The rain that fell on Springfield, Illinois late last week certainly changed the pace of work outdoors, but work did continue on the Project. Friday was a cold, and gray sky day. Earlier in the week, the field which will become Union Station Park had been a hub of intense activity with earth moving machines, and contractors trying to beat the coming bad weather. The field is now a sea of mud. And an enormous mound of trucked in topsoil is a large mound of mud.
The photographs for this post feature the skyline of Springfield, Illinois in the background. The high rise cylindrical shaped building in the far background is Springfield Illinois' Hilton Hotel. The Hilton is a thirty story building, and is the tallest building in Springfield, Illinois. Also seen is the art deco style Illinois Building. The Illinois Building is now the Ameren-CIPS building. In the foreground is the Abraham Lincoln Presidential Library, and Museum Campus.
All photographs taken for this post were captured on Friday, October 21, 2005 by JeromeProphet. Union Station, and the Union Station Park are part of the Abraham Lincoln Presidential Library, and Museum Complex. The Union Station Project, and Union Station Park Project are slated for completion by the summer of 2006.