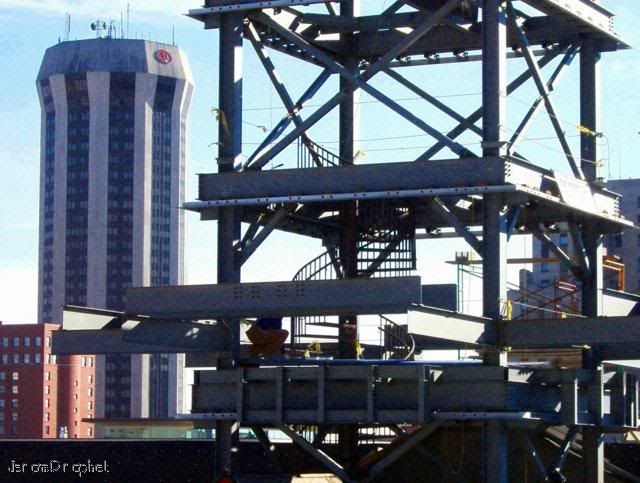 Photo: Union Station Clocktower Gets A Spiral Stairway
Photo: ALPLM Union Station Spiral Stairway Awaits Crane Lift
Photo: Springfield, Illinois Union Station Stairway Prior to Installation
The Abraham Lincoln Presidential Library and Museum includes Union Station which is undergoing a rehabilitation project. The most exciting aspect of the Union Station Rehabilitation Project certainly must be the addition of a one hundred foot tall clocktower to the station.
The clocktower's steel frame can be seen in the photograph above. Running up the center of the clocktower is an amazing spiral staircase! The staircase as of yet, is not entirely installed, as the photographs above illustrate.
Hopefully, once Springfield, Illinois' Union Station opens to the public the spiral staircase will be available for anyone wanting the challenge of climbing up its winding spire. I imagine the view from any window atop the clocktower will be well worth the climb! Looking down upon the Union Square Park once it is finished, and down upon the Abraham Lincoln Presidential Library and Museum Complex will have to be be an exciting, and beautiful scene to behold. I wonder if a webcam will be installed atop the clocktower?