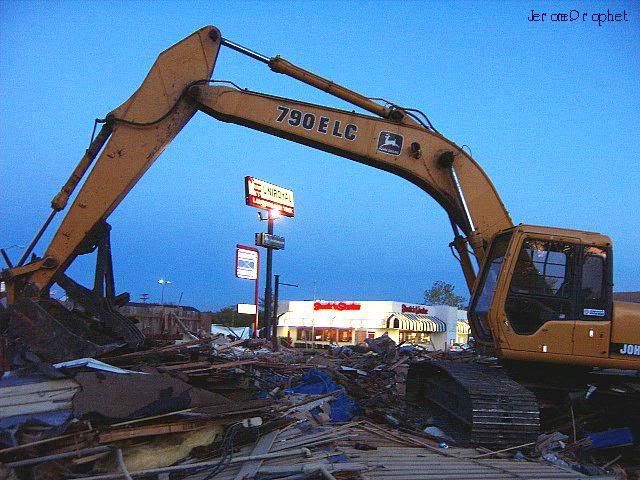 Photo: Barrel Head Demolished - Victim Of Jerome, Illinois' 2006 Tornado
Owners of The Barrel Head located on Wabash Avenue in Jerome, Illinois demolished the severely damaged eatery six weeks after an F2 tornado ripped it's roof off.
According to an article in the Illinois State Journal Register the building is to be rebuilt. Where, and when exactly that rebuilding takes place are two questions I'd like to ask the owners.
Being a resident of the Village of Jerome, I sure hope the rebuild right here in Jerome!
I took several photos of the demolished remains of the Barrel Head. In the photograph above, under the arch of the demolition crane, Steak & Shake can be seen across Wabash Avenue. It's sign is still damaged, and actually looks better - being brighter.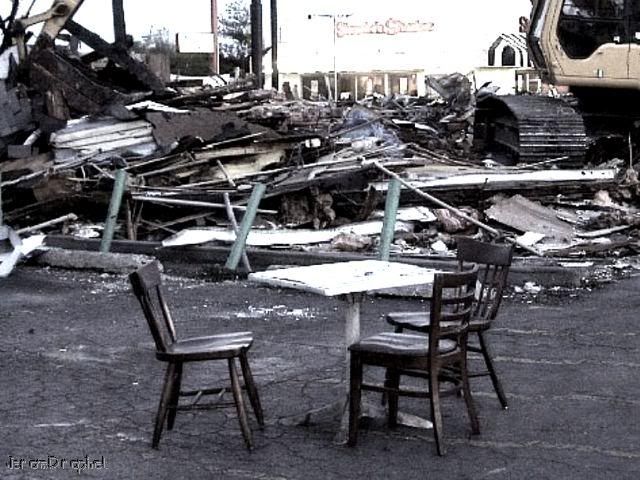 Photo: Jerome, Illinois Barell Head Demolished - A Last Reunion?
A table and several chairs were assembled next to the debris. It looked as if a small group of people had come, and sat down at that table - perhaps for one last get together at the old Barrel Head.
Barrel Head Jingle
Barrel Head.
Good Times, and Good Friends.
Barrel Head.
Where The Party Never Ends.
The Barrel Head is now just as much of a memory as is the Wabash Curve. The Barrel Head Jingle which played for decades on radio, and television spots to residents of Central Illinois had historically included a reference to the Wabash Curve. The Wabash Curve was a section of road in which Macarthur Blvd. curved into, and became Wabash Avenue. The Wabash Curve was converted into an intersection with the recent completion of the Stanford-Wabash road project.