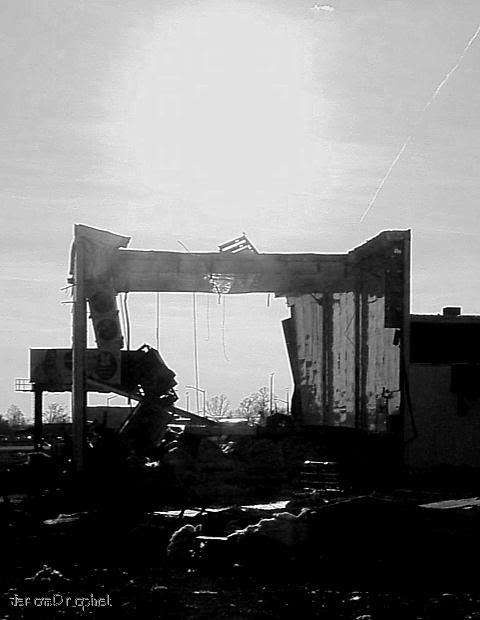 Photo: Springfield, Illinois - Tornado Destruction
I spoke with a woman today on the phone. She seemed like such a nice woman. She needed for me to help her, and so I did.

We had something in common. She was without electricity, and was living on the edge - the edge of civilization.

She was in the same situation I had been in three weeks ago, and for the same reason.

A tornado had payed a little visit to her home town of Marmaduke, Arkansas.

The following excerpt obtained from

The Statesman

:


About a half-dozen tornadoes struck Arkansas and one destroyed nearly half of the town of Marmaduke, Arkansas, according to a fire department official.
Officials limited access to the town in northeastern Arkansas because of a ruptured natural gas line. Almost every single structure in Marmaduke has minor to moderate damage but almost 50 per cent of it is totally destroyed. Much of the town also was damaged by a tornado in 1997.
I began to wonder what it would have taken for the small village of Jerome, Illinois to have suffered a similar fate. Not much I suspect.

Tonight on a walk with my daughter I noticed the small piles of debris stacked neatly in front of home after home, the damaged tree branches, the damaged roofs, broken walls, broken windows = all caused by the tornado. Work progresses to restore our sense of invulnerability - our sense of order here in Jerome.

Each pile of debris is slowly being picked through, to bring order to the madness. Branches in one pile, roof tiles in another, pieces of garage in yet another. A place for everything.

As I walked tonight my mind flashed to Sunday night's tornados. The sound of sirens filled the air once again. Gus Gordon shrilled voice warning of tornados on the march at the corner of Wabash and Veterans again! I began to feel as if I was in an episode of the Matrix - this surely must be some sort of simulation, a hologram - or are we just cursed?

My daughter had trouble sleeping last night. Three weeks ago she had to take cover from the tornado which struck Jerome, and last night she found herself in the same situation in Auburn. The home she was visiting had sustained roof damage from a large tree branch that fell as a result of the storm. She no longer trust in the calm mundane world in which she lived prior to March 12th, 2006.

She ask me almost daily if I think the world is coming to an end - that is a rumor which floats around her high school. The world is to end on June 6th, 2006. I tell her no.

But I fear that with global warming we may need to brace ourselves for a new era of intensified storms, and I wonder how wise it is that we have built such fragile structures when maybe we should all be living in bunkers.

Still hearing about Marmaduke made me realize how terribly lucky we were here in Jerome, Illinois.