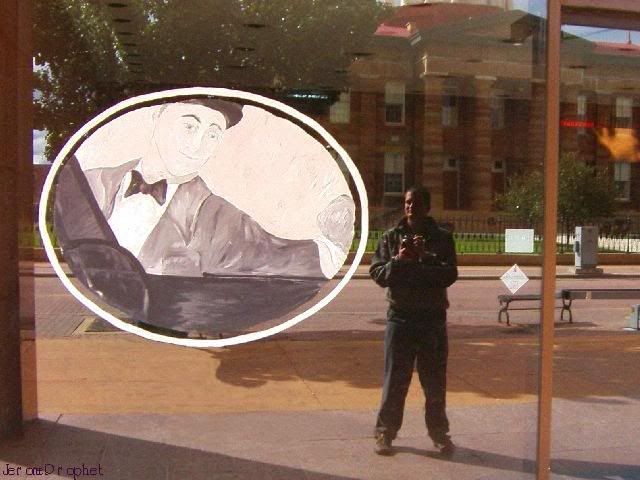 Randy Reynolds of Photos-Etc Photographs A Route 66 Festival Window Mural
Central Illinois photo-blogger Randy Reynolds took a romp around downtown Springfield this afternoon. The weather was late Octoberish, yet there was enough light beaming between the clouds to capture some interesting images. The photo above is of Randy taking a photograph of a Route 66 Festival window mural. The image shows Randy's reflection, with the north face of the Illinois Old State Capitol Building in the background.
Randy has
posted a self portrait
on his blog. Randy has also posted
a photo of the mural on his website

.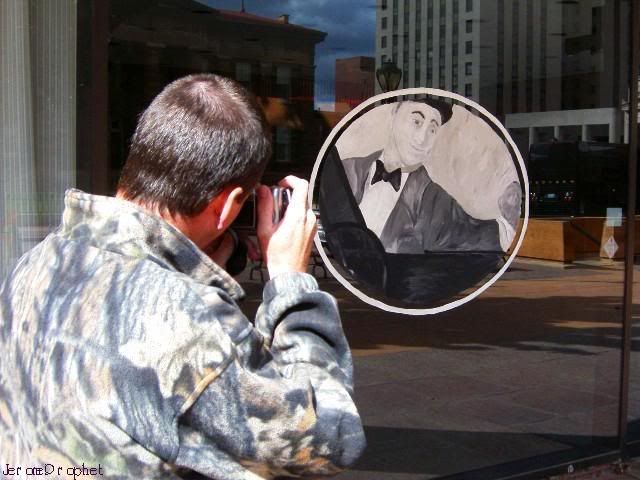 Randy Reynolds Comes In For A Closeup - Springfield, Illinois
I spent a few hours this evening tweaking the mural art just wee bit - see below. I dedicate this alteration to the mural artist who painted the original mural. I wish that I had your talent, and as soon as I find out your name I'll most certainly give you credit for your work.
As for my alteration of your work - I just felt like I had to do it. It's dark, and it's kind of evil looking, but I like it.
Altered Art By Jerome Prophet - Dedicated To Original Mural Artist