I added
GotShoo
to my blogroll today. Looks like an interesting site, with regular updates.
GotShoo is also the talent behind Springfield's newest service to the blogging community - Spfldbloggers.
Spfldbloggers
is at this moment very much a work in progress. Shoo has now implemented a feed aggregator. The banner logo has been replaced! An improvement too, I might add.
From this: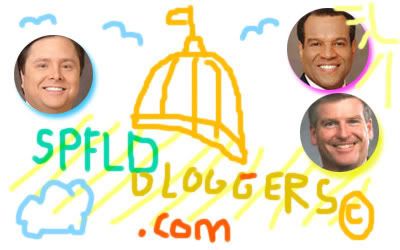 Spfldbloggers banned "beta banner"
To this:

Spfldbloggers intro banner
An Artistic Review Of The Now "Banned" Beta Banner?
In reviewing Shoo's artwork I first noted his employment of crayon like colors, and themes. The banner included child like symbolizations of simple visual icons such as birds, sun rays, and clouds. At the center of the piece is a dome, presumably the Illinois State Capitol. Three contemporary Springfield, Illinois celebrities are featured encircled in bright crayon circles. The three photographic images include, the current (2006) Mayor of Springfield, Illinois, Tim Davlin, and two contemporary Springfield, Illinois television celebrities, WICS' Gus Gordon, and Jerry Lambert.
The "beta banner" evoked a humorous response from this reviewer, in that it looks as if it could have been created by a six year old child. Still the banner employed juxtaposition of photographic elements with simple graphic art. It juxtaposed the sophisticated images created by those seeking to persuade (the corporate, and political world), with the honest child like graphics. In this sense the artwork wasn't without total merit.
Local artist & writer, Shoo, stated on his online journal that he received a request to discontinue use of his artwork on his website due to a legal threat made against him - by what, or whom he doesn't say.
Spfldbloggers Service - A Review
With feedlinking providing updated posting information Spfldbloggers will make it easy to see what's going on in the Springfield, Illinois BlogoSphere
without actually having to visit any of the listed blogs!
A real time saver!
A bit of local blogosphere history would reveal that Marie at
Disarranging
had developed, and retained an authoritative blogroll history links page at her site.
Here's a link to her
old list
, and a link to her
new list
. Marie has tipped her hat to SpfldBloggers by linking to SpfldBloggers as her new list. Quite an honor Shoo.