Does Saint John's Incinerator Poison East Side Neighborhood's Air?
Ten years ago there were nearly 7000 hospital waste incinerators poisoning communities throughout the nation. Due to tighter EPA standards less than one hundred still operate today.
Saint John's Hospital in Springfield, Illinois continues to operate a medical waste incinerator in the heart of downtown Springfield. Most of the air pollution which Saint John's incinerator produces flows east across Springfield's east side neighborhoods. The east side of Springfield is made up of poorer less politically powerful neighborhoods.
Medical waste incinerators produce dioxins, and toxic heavy metals which have threatend the health of those who breathed air contaminated by these obsolete devices.
One can only wonder how long such an eyesore, and potential threat to public health would be tolerated if it were located just west of Panther Creek - Springfield's posh upper class subdivision where many of the doctors who work at Saint John's live.
How it is possible for any medical establishment to justify poisoning the very air people breath?
.
This incinerator is just one block east of the Abraham Lincoln Presidential Library, and Museum. It is an eyesore which needs to be demolished. It is time for Saint John's Hospital to stop polluting the air of east side and downtown Springfield residents!
Update!
.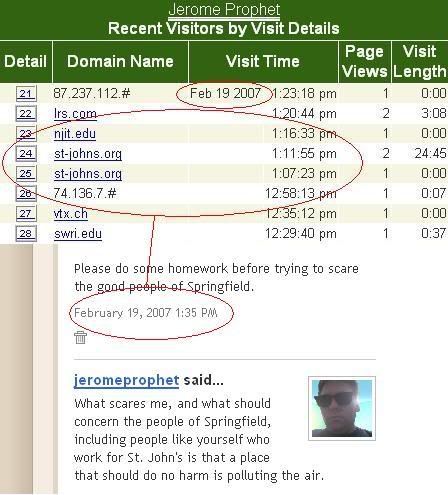 Did Someone From Saint John's Post A Comment?
If so it was well written, and only took about a half hour to write from the time of the initial visit.