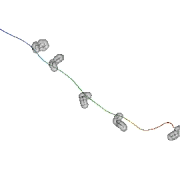 Screen Shot from Stanford's Protein Folding Program
.
Calling on Bloggers To
Install Stanford University's Folding Software
To Join the
Bloggers For A Cure
Team
!
Use Team Number:
63924
I'll post more on this software soon!
Check out the link above, and join me in using spare CPU cycles to help researchers speed up their search for cures for Cancers, and other genetic diseases.
This program can be configured to run completely in the background. You decide when it runs, and how much computing power it uses.