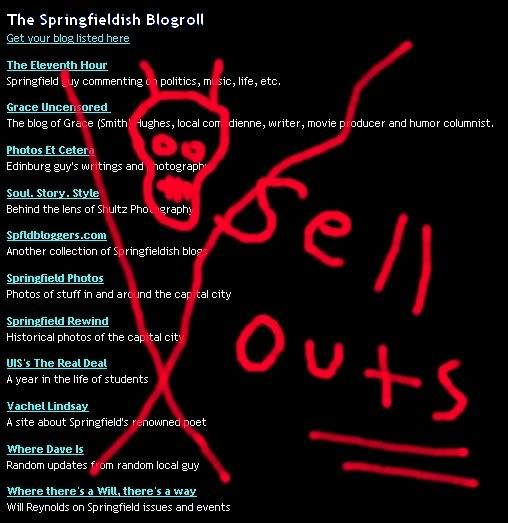 I'd never join a club that would allow a person like me to become a member
-Woody Allen-
.
.
The Truth?
I've been declined, or at least my request to be included on SJ-R's blogroll has been utterly ignored.
I'm not really serious about the "Sell Outs" graffiti on my artwork above.
Actually, I'm asking a question, not making a statement.
Child like as it seems the image above is timely, and thought provoking.
When an independent minded blogger becomes beholden for a certain percentage of their esteem, or their blog hits due to such a link will the blogger begin to soften their criticism of that main stream media outlet?
Would the blogger's fear of being removed from such a list tend to inhibit the blogger's post?
Will any of you on the list ever feel as comfortable critiquing SJ-R as you did before you made it on their Springfield Blogger's list?
So does that make you victims, or sell outs?
Before any of you comment, let me make one admission here.
Since establishing my relationship with the Illinois Times I can say that on several occasions I have found myself editing my own post for fear of being seen as too fringe, too controversial, too radical, too non-politically correct, etc.
I'm sure I do it on a subconscious basis too.
The effect is real whether realized or not.