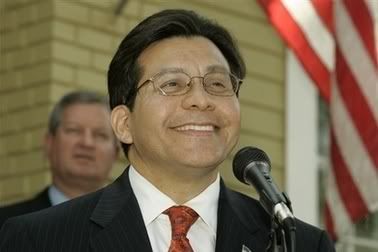 AP Photo: A Confident Attorney General Alberto Gonzales
The U.S. Senate voted on a historic "No Confidence" Cloture Motion (S.J.Res.14) on Attorney General Alberto Gonzales. Unfortunately, thirty eight Republican Senators blocked the Motion which needed a 3/5th's majority to pass.
In my opinion Alberto Gonzales is one of the worst Attorney Generals in the history of this nation.
Is that surprising coming out of this Administration, which is certainly one of the most corrupt, and incompetent administrations in the history of the United States? Sadly, it is not.
From Gonzales' role in authoring legal advice on the U.S. torture of prisoners of war (which he endorses) to his lies to Congress regarding his role in firing U.S. Department of Justice prosecutors for strictly political reasons, Alberto Gonzales has shown his loyalty to an administration which has itself shown nothing but contempt for the U.S. Constitution, the people of this nation, and the people of the world.
Democrats knew going into the vote that the measure had no chance of winning, yet they've now forced those 38 Republican Senators who protected, and continue to enable Gonzales, to find some way to justify the unjustifiable. Hopefully this will cost those 38 Republican Senators at least a few votes. Anyone who wants good government surely could not support General Gonzales.
Obama Misses Vote
Barrak Obama out campaigning missed this vote. While it was a foregone conclusion that the Democrats would fail to reach the required sixty votes it still would have been nice if the Illinois Senator could have been in Washington for the vote.
Several Republicans crossed the isle and cast votes against the Attorney General (see below in red).
One interesting vote is Senator Stevens from Alaska. What's with that? He appears to be unwilling to vote against Gonzales, yet perhaps the corruption is even too much for Senator Stevens to endorse?
Here's the roll call from Senate.Gov
YEAs ---53

Akaka (D-HI)




Baucus (D-MT)




Bayh (D-IN)




Bingaman (D-NM)




Boxer (D-CA)




Brown (D-OH)




Byrd (D-WV)




Cantwell (D-WA)




Cardin (D-MD)




Carper (D-DE)




Casey (D-PA)




Clinton (D-NY)




Coleman (R-MN)




Collins (R-ME)




Conrad (D-ND)




Dorgan (D-ND)




Durbin (D-IL)




Feingold (D-WI)




Feinstein (D-CA)




Hagel (R-NE)




Harkin (D-IA)




Inouye (D-HI)




Kennedy (D-MA)




Kerry (D-MA)




Klobuchar (D-MN)




Kohl (D-WI)




Landrieu (D-LA)




Lautenberg (D-NJ)




Leahy (D-VT)




Levin (D-MI)




Lincoln (D-AR)




McCaskill (D-MO)




Menendez (D-NJ)




Mikulski (D-MD)




Murray (D-WA)




Nelson (D-FL)




Nelson (D-NE)




Pryor (D-AR)




Reed (D-RI)




Reid (D-NV)




Rockefeller (D-WV)




Salazar (D-CO)




Sanders (I-VT)




Schumer (D-NY)




Smith (R-OR)




Snowe (R-ME)




Specter (R-PA)




Stabenow (D-MI)




Sununu (R-NH)




Tester (D-MT)




Webb (D-VA)




Whitehouse (D-RI)




Wyden (D-OR)



NAYs ---38

Alexander (R-TN)




Allard (R-CO)




Bennett (R-UT)




Bond (R-MO)




Bunning (R-KY)




Burr (R-NC)




Chambliss (R-GA)




Cochran (R-MS)




Corker (R-TN)




Cornyn (R-TX)




Craig (R-ID)




Crapo (R-ID)




DeMint (R-SC)




Dole (R-NC)




Domenici (R-NM)




Ensign (R-NV)




Enzi (R-WY)




Graham (R-SC)




Grassley (R-IA)




Gregg (R-NH)




Hatch (R-UT)




Hutchison (R-TX)




Inhofe (R-OK)




Isakson (R-GA)




Kyl (R-AZ)




Lieberman (ID-CT)




Lott (R-MS)




Lugar (R-IN)




Martinez (R-FL)




McConnell (R-KY)




Murkowski (R-AK)




Roberts (R-KS)




Sessions (R-AL)




Shelby (R-AL)




Thune (R-SD)




Vitter (R-LA)




Voinovich (R-OH)




Warner (R-VA)



Present - 1

Stevens (R-AK)





Not Voting - 7
Biden (D-DE)


Brownback (R-KS)




Coburn (R-OK)



Dodd (D-CT)
Johnson (D-SD)


McCain (R-AZ)



Obama (D-IL)