August 11th, 2008 Downtown Springfield, Illinois 7:00 P.M.
I shot these photos in black and white from downtown Springfield, Illinois. The north and western sky over Springfield, Illinois was covered with an unusual cloud formation. It looked as if some great cloud weaver had stitched the clouds together.
While I took several photographs I spoke with an associate about of all subjects - covert weather modification. Believe it or n0t - I wasn't the one to start the subject. Soon this individual, who is a former law enforcement officer, was sharing his beliefs about secret government programs to change the weather by creating overcast with jet aircraft contrails.
I had never even once spoken with this gentleman about the subject - it was kind of funny.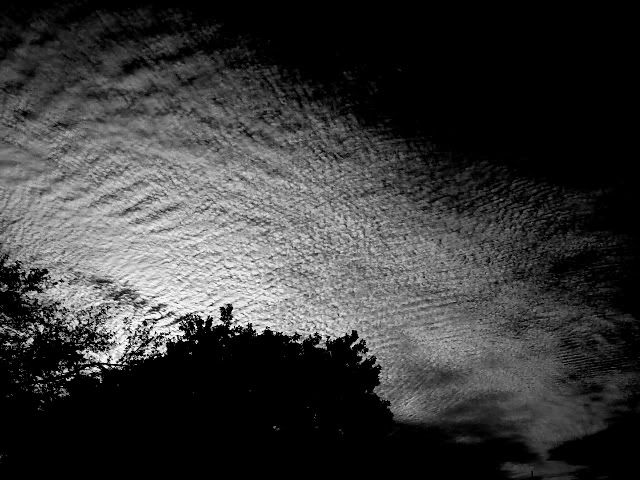 Oddly Striated Clouds Over Springfield, Illinois - High Contrast
The photograph included in this post is reproduced several time. The first image is pretty much what the photo looks like at 640 by 480. I haven't enhanced it in any way.
In the second photo we see the same image, but I have increased contrast to show the striations. These striations were highly visible with the naked eye, and several people noticed them.
The photograph below is a close up of the right hand side of the image above. You'll notice an almost mathematically precise striation affect within the cloud.
These striations appear to be due to a pile up of contrails from hundreds, perhaps thousands of jet aircraft contrails. I'm not quite certain what the process is which allows a mass of contrails to slowly merge forming clouds, however, this photo is an excellent illustration of the process.
Close Up - Odd Stripes In Clouds Over Springfield, Illinois
Link To Original Photo Of Odd Striped Clouds Over Springfield, Illinois photographed from the corner of 7th, and Jefferson (Downtown) at 7:00 P.M. Looking West.