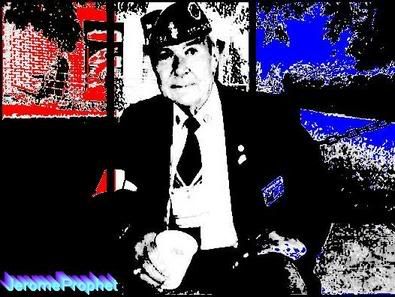 Photo: American Legion Vet - PCCC - Springfield, IL - July, 2005
The Illinois Chapter of the American Legion has been holding their 2005 annual state convention at the Prarie Capitol Convention Center in Springfield, Illinois.

I took the opportunity to chat with one Legionaire, whose photo (with permission to both snap, and post to my blog) I include above.

From his looks I'd say Korea, but no he told me, he was a Vietnam vet.

He looked tired. Perhaps it was the price he paid serving his nation so many years ago, or perhaps it was just age, and the road trip to Springfield.

Like a resoureful soldier he had picked out a spot along the brick wall that runs in front of the Convention Center - just perfect for sitting in the shade. A good place to recoup.

His uniform was perfectly tended, no speck of dust, no badge misplaced. He cared.

He was a kind man, and happily agreed to talk with me.

His bloodshot eyes sparkled with excitement, as he explained that next month he would be attending the National Convention in Honolulu, Hawaii. He dutifully explained that he would be representing Illinois, his pride apparent as he informed me that there were millions of members in the American Legion.

I wanted to sit down awhile, to hear his war stories, but I had to be going. With only minutes of lunch time to spare I could not be late getting back to my mundane job. I knew I had lost out on an opportunity.

So I'll post it here, Thanks for serving!