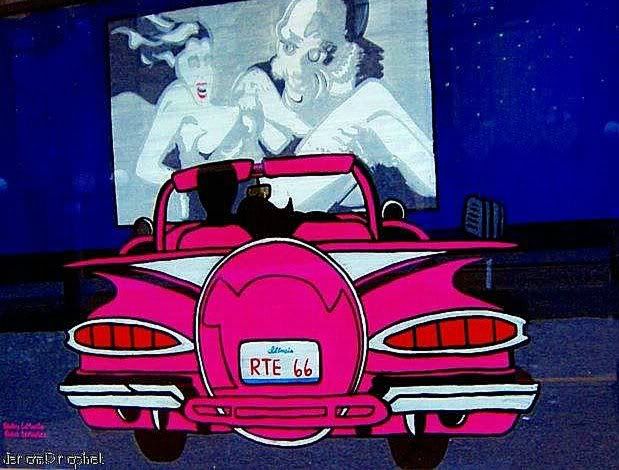 Photo: Route 66 Window Art by Shelley LaMantia & Susan LeMasters
The photo above features more excellent Route 66 Mother Road Festival Window Art. This time by artists Shelley LaMantia, and Susan LeMasters. The Theme illustrates the Route 66 Drive Inn featuring the 50's Horror Flick, Creature from the Black Lagoon.

This window art is on display at Uptown Looks. Uptown Looks is located in the Old Broadwell Drugstore at #1 W. Old State Capitol Plaza, in Springfield, Illinois.

Downtown Springfield, Illinois will play host to the 2005 Route 66 Mother Road Festival this weekend.

Here's an excellent list of Route 66 Drive Inns. Most are closed, yet a few remain open, like the Sky View Drive Inn which operates in Litchfield, Illinois.


Image: CFTBL DVD Cover*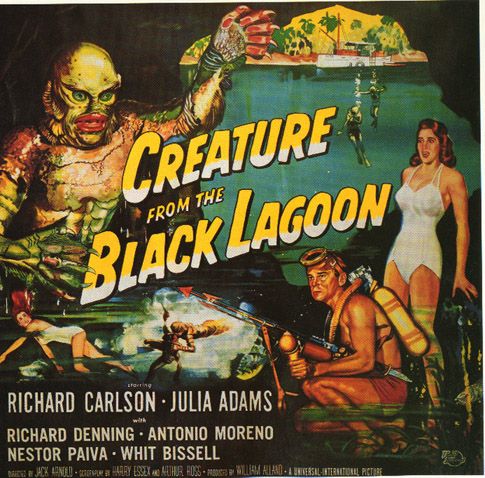 Movie Poster: Creature From The Black Lagoon **



Creature From The Black Lagoon is an amusing "B" horror flick, that certainly represents it's genre well. It's been many years since I've seen it, but composing this post has me interested all over again. With a cast like Richard Carlson, Julia Adams, Richard Denning, Antonio Moreno, Nestor Paiva, and Whit Bissell no movie could go wrong. Now which one played the creature?

* DVD Cover Link: Amazon.Com
**Movie Poster Link: Kensforce.Com