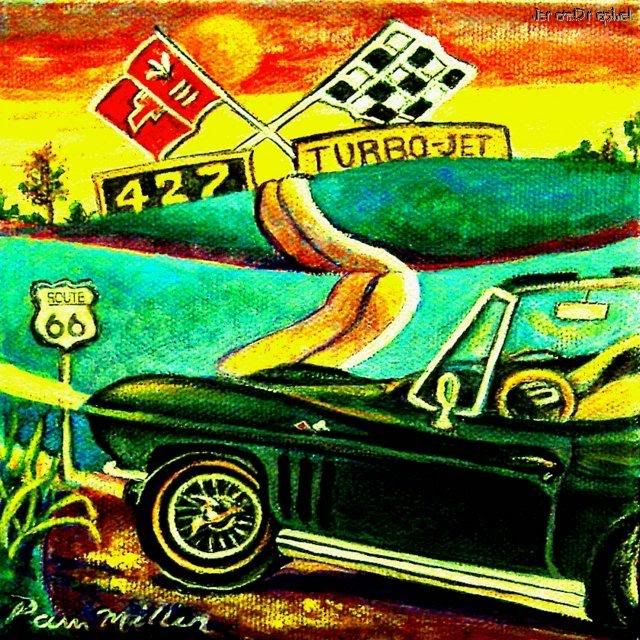 Painting: Pam Miller's Flyin' High in 1966
The artist note on this piece states:

The 1966 Corvette Sting Ray changed little in style, but the 396 engine was bored out to 427. Hurling the car from 0-60 mph in five seconds, the engine could reach a speed of 140 mph. It seemed like flying!



About the Photograph:

Photograph by JeromeProphet. Taken on October 10th, 2005. At the H.D. Smith Gallery in Springfield, Illinois.


The H.D. Smith Gallery which is located in the Hoogland Center for the Arts is still hosting the "6 X 6" Themed Display. Six by Six has a convenient parallel in themes to the Route 66 Festival. Yes, the 2005 Route 66 Mother Road Festival has already come, and gone. But there's still a chance to catch some excellent art in Springfield, Illinois. Pam Miller's

Flyin' High in 1966

is already sold, but is still on display. This photograph does not do the acrylic painting justice. The photo you see was edited, and color adjusted for presentation on this blog, but it's much better in person so check it out while you still have the chance!

In the coming days I'll post more photographs of more excellent art on display at the H.D. Smith Gallery so stay tuned.