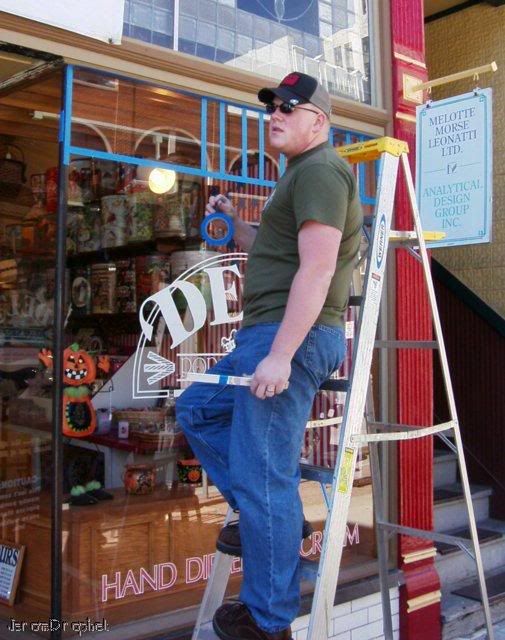 Photo: Richard Kohlrus @ Del's on 66 (i.e., 6th)
Photo: Kohlrus Preps Window Prior to Painting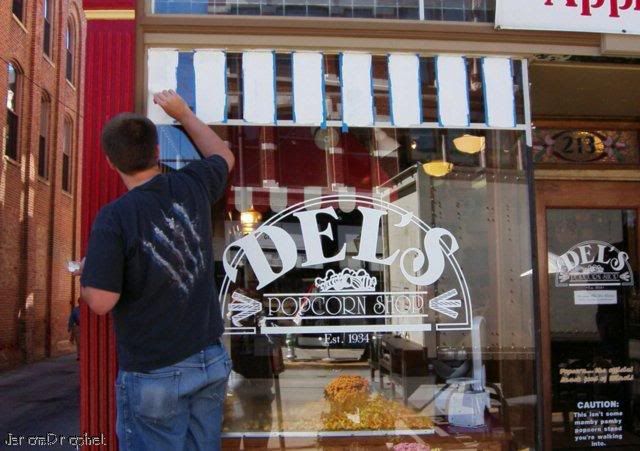 Photo: Kohlrus's Assistant Applies Paint 09.29.05
Photo: Kohlrus Paints Sky 09.30.05
These photographs were taken in front of
Del's Popcorn Shop
located at 213 S. Sixth Street in downtown Springfield, Illinois. Local artist Richard Kohlrus, and assistant were busy creating a Route 66 window mural for Del's Popcorn Shop.
Kohlrus was the artist behind several other window murals in downtown Springfield, Illinois including a Route 66 window Mural at Prarie Archives.
Kohlrus' mural project at
Del's Popcorn Shop
took several days to prepare, and several days to complete. Kohlrus admitted he's a perfectionist, and wants every detail to be just right.
When shoppers view Kohlrus' window mural from within Del's they will only find red, and white stripes. The mural is designed so as not to conflict with Del's "red stripes" theme.
The Del's mural as seen from the sidewalk presents a multi-seasonal chronology incorporating different Del's products popular with each season.
You might have to look closely to find the Route 66 theme present within the mural. Hint: Abe Lincoln is driving an automobile down a candy land Route 66!