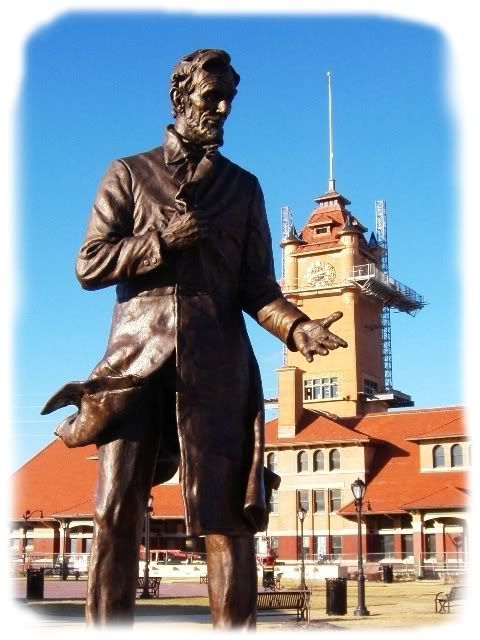 Statue of Abraham Lincoln with Union Station in Background
Several weeks ago I was informed Halverson Construction was in the process of installing the clocks on Union Station's Clock Tower. By the time I took the photos for this post the clocks were already installed.
.
.
Closeup of Union Station Clock Tower with Newly Installed Clocks
I then missed deadline by only a few hours in submitting my material for Jerome Prophet's Springfield, and have held these photos for posting to my blog until after Illinois Times published the feature last Thursday January 4th, 2007.
In the meantime the SJ-R published an excellent article on the clock's installation, and several local Springfield, Illinois bloggers have posted many excellent photos of their own. I hesitated as to whether to post these photos at such a late date, but I felt they were too beautiful not to post.
Two things which I discovered interesting in my interview of the men who installed the clock, including Halverson site foreman, Joel Antonacci, was that they were surprised when I informed them that the clock's chimes could be heard several blocks away. It turns out that Union Station is so well constructed that the clock can not be heard from within the station itself.
Three clocks were installed in one day, on Friday December 8th, 2006, and the final clock was installed. Wednesday December 13th.
The setting of the clocks was understandably a group effort by Halverson's crew, with consultation from Electric Time the manufactures of the clocks. Electric Time is located in Medfield, Massachusetts.
Springfield, Illinois is lucky to have such a fine company as Halverson Construction located right here in Springfield, Illinois.
Everyone I've ever spoke to with Halverson Construction has been respectful, and generous of their time. They show utmost pride in what they have accomplished at Union Station, and in the Parking Garage just north of Union Station.
As soon as the project is complete I plan to post some photos I have taken from within Union Station during construction. Union Station is going to be such an incredible asset to the community once it opens again!
Here's a
link to a great company - Halverson Construction
- you really should check out their site!
Here's a link to the clock's manufacturer's web site -
Electric Time
(really interesting too).