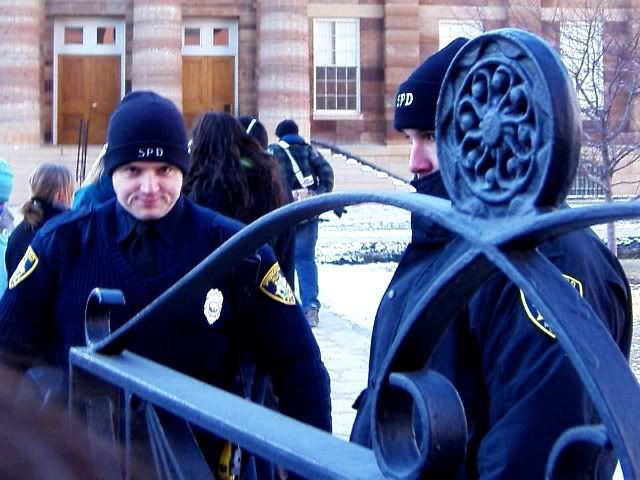 Springfield Illinois' Finest Puts On A Big Smile For The Camera
.
The Official Watchers Greet You
.
Perhaps it was the extreme cold, getting up very early on a Saturday, or just trying to remain diligent while looking at thousands of faces, but this Springfield Police Department Officer didn't look like a happy camper.
.
.
Everyone Has Cameras & Cellphones - They Bring Them To This Type Of Event
..


The Crowd Watches and Records Itself




.


Nearly everyone who attended Barack Obama's Presidential candidacy announcement ceremony brought cellphones, and digital cameras. It would be fascinating to have everyone upload their photographs, and then create some sort of virtual reality deck. That would be neat. If Barak Obama wins will people in the future look at all the photos taken in this era just like people study photos from the days of Abraham Lincoln? Probably, but so many more photos are being taken today than in the time of Abraham Lincoln that I don't see how it would be possible. Yet if there was some kind of software where a person could upload a photo, and it would be interlaced within a virtual reality matrix that would be neat. Each photo would add additional information which the computer would sort out, and the user would simply glide around within the three-four dimensional world created. History could be a more interesting subject if it were treated like a video game.

.. \
.

Picked This Guy Up Early - Mister Spooky on Zone Patrol
..
Now I Introduce To You - Mr. Spooky Guy!
.
I was minding my own business like thousands of others who braved the intense cold to see Barack Obama announce his presidential bid, and along trots in a bulldog of a guy who looked to me to be an undercover security person.
Am I paranoid? You betcha, but paranoid thinking is just good thinking when people are out to get ya.
Before making any rash judgments about my state of mental health read the following explanation of why I came to believe that this character was acting spooky. In fact for this post I'll refer to him as Mr. Spooky Guy.
Dave of the11thhour, and I entered the grounds of the Illinois Old State Capitol through the north entrance off of Washington Street. After entering we walked across the frozen lawn to the back of the crowd.
Mr. Spooky Guy was there before we arrived. Once we picked out a spot to stand Mr. Spooky Guy does a beeline right behind us. Now that may not be peculiar in and of itself, he has to stand somewhere right? Sure Mr. Spooky Guy was much shorter that either Dave or I, but why should he look for a better spot?
.
.
Things Get Stranger With Mr. Spooky Guy
Dave, and I decide that we don't like the view so we decided to leave, and try and find another POV on the whole event.
We had to walk against the incoming foot traffic back to the north exit, and eventually found that we couldn't leave. The cops weren't any help, and the incoming tide of people was just too great to fight against - we were trapped. So we decided to walk back to where we were before.
However while we were trying to get out, all the people who we passed trying to leave had already filled in the area where we had been. We were even farther back than we had been before.
So one would have thought that the spooky guy that had earlier positioned himself right behind us would be deeper into crowd - right?
No, he had pulled out of the crowd!
By the time we returned the spooky guy comes back and repositions himself right behind us again!
But that's not the only thing I found odd.
I thought that Mr. Spooky Guy was acting suspiciously so I quickly turned and snapped a photo of him, but what does he do? The second he sees the camera pointed at himself he immediately looks off. When I pull the camera back he resumes his previous orientation.
Suddenly Mr. Spooky Guy finds something important to look at, but only for the second or so that I pointed the camera at him. He struck this pose for one second - quick reaction Mr. Spooky Guy! In the photo below he almost looks like he's looking off at something interesting, but it's all for the camera.
.
.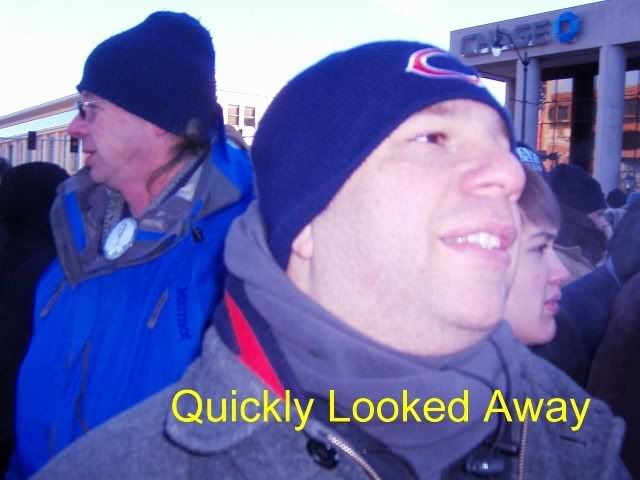 Mister Spooky Goes Man to Man - Not Once, But Twice!
..
The Price Of Freedom And Security - Being Watched
.
There was plenty of justification for crowd infiltration. If you're trying to protect a candidate you'll want to set up some security within the crowd before such a candidate. You'll want to get close to anyone you may suspect falls within a certain profile. For example you might not waste much time on Grandma, and her grandchildren, but you would want some wandering security within a crowd checking people out who might be suspicious looking.
When Barak Obama announced his bid for the Presidency the crowd, buildings, and skies around the event were under close inspection. In fact I'm sure there was more watching going on than I would even suspect. This is the price of living in a modern society in which one terrorist with a bomb, or machine gun can turn a peaceful democratic experience into a nightmare of blown up body parts. It's too bad we live in a world where this is necessary, but that's the reality of the times we live in.
.
.
Photos Reviewed
.
This is one of my favorite photographs of the event. I like the contrast of the spotters with their binoculars against a beautiful sky. The flag looks nice too.
.
.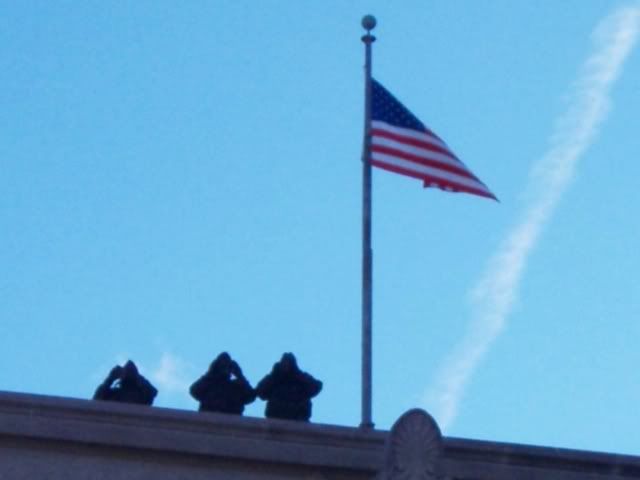 Spotters Atop Chase - Marine Bank - Springfield, Illinois

.
It was dreadfully cold out that morning. For those closer to the risers, and the podium where Barak Obama spoke the sun was out, and it must have been ten degrees warmer there, than for thousands in the shade created by the Ameren CIPS building. The sun only peaked around the corner of the Ameren building moments after Barack Obama left.

The next photo is my favorite which I took of the event. I just love the American flag. To me it is beautiful. Even if I had been raised in some other nation I'd still be totally appreciative of the beauty of the American flag. In the photo we see a giant flag draped over a building on the corner of Sixth and Washington. Spotters with binoculars are stationed atop the building.


.




.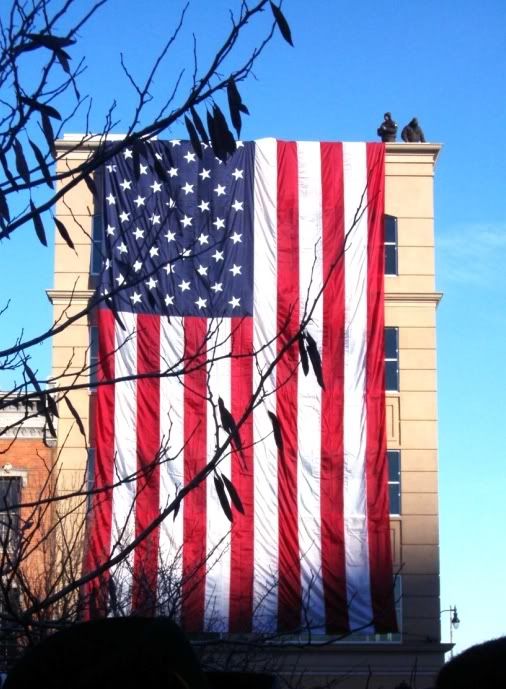 Sixth & Washington's Giant Flag - Spotters Atop Building


.



I liked the giant American flag so much I used it in a portrait of two attendees. These three (below) were kind enough to pose. They're friends of Dave of the11thhour. Guess which one wanted to appear in the photo, and which one didn't? And yes, I meant three, and not two earlier.


.




.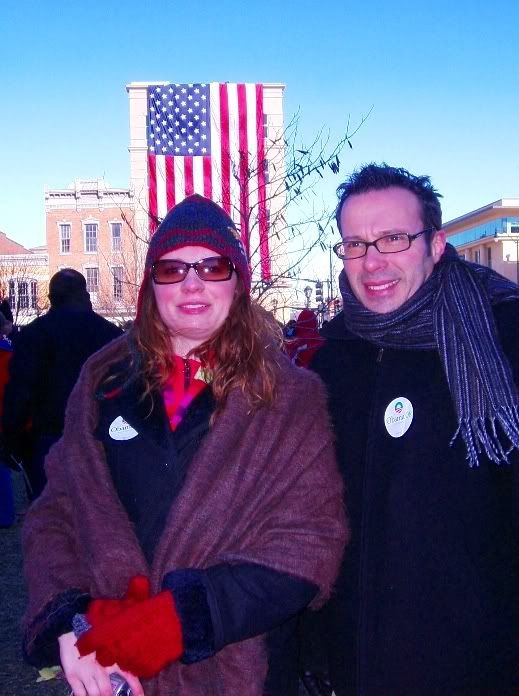 Dave Of The11thhour's Friends - Spotters Gone After Speech
.
O.K., so the photo above doesn't have anything to do with surveillance, except it does show that the spotters atop the giant flag building left immediately after the speech.
.
.