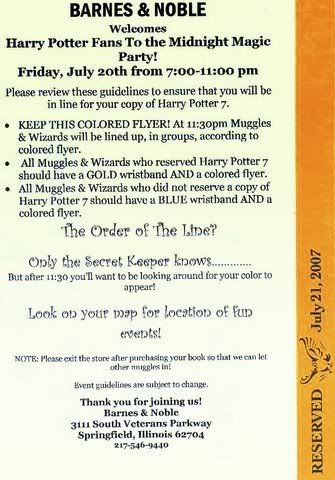 My Harry Potter Flier and Wristband

Potter Fan Experience to Obtain First Edition
I went to Barnes and Noble on Friday night, and picked up a wrist band, and colored flier. I had already called a week before to reserve the book Harry Potter and the Deathly Hallows.
I didn't hang around to long for the Harry Potter Fan's Party, although it looked kind of neat.
I then came home knowing I had to come back at around 11:15 P.M. I spent the time scanning my flier, and wristband, and goofing around on the Internet looking for book reviews.
There had already been a crowd at around seven thirty when I came to pick up my wristband and so I kind of figured there'd be one when I came back to queue for the book.
And there was.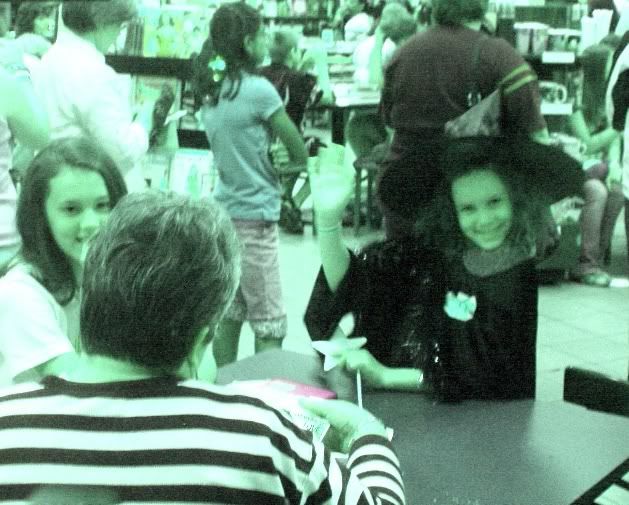 Harry Potter Party - Pretty Young Witch With Wand Waving A Strange Glowing Hand
I was fortunate as the crowd was friendly, and in such a festive mood that I moved easily toward the front. I took many photos.
There were lots of very friendly people. Families with kids, and a large number of teens in the same age as the main characters in the book series.
I saw teens wearing Hogwart's style clothing, and gothic styled people too.
One thing I didn't see was any kind of disruption or disrespect at all. I was surrounded by teens who never made any kind of smart remark to anyone - and we were waiting in line for hours!
There was one family in front of me that drove from Pittsfield. The kids and parents were very happy to be in Springfield standing in line for the last Harry Potter book. I was amazed at how nice this family was. One gentleman opened up a folder, and began reading Harry Potter Jokes, and was quickly surrounded by people wanting some sort of diversion while standing in line.
Barnes and Noble Clerk Who Served Me
A Race to Defeat the Spoilers!
I got home around 1:30 A.M. with my Harry Potter book in hand!
I read until sunrise, and then crashed. I woke up, and began reading, and kept reading all weekend long. I finished reading about 11:30 Sunday night.
I can only say I felt spent after reading the book. I normally wouldn't have read a 757 page book in two days, but I really had no choice. Going back to the office on Monday means being surrounded by people who will have read - and those who will have skimmed and pretended to read - the book. I can tell you they'd have ruined the experience for me, and there'd be no one to blame but myself.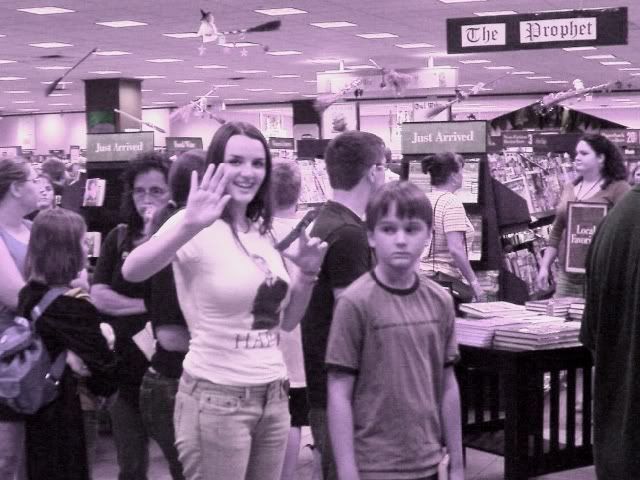 Harry Potter Party - Is This Young Woman Waving Or Is That A Spell Being Cast?
It's one thing to spoil a movie, it's another thing to spoil a book, and it's even worse to spoil a seven book series!
I read a news article in the Indian Times and at least some of the children in India are attending class during the summer. The article quotes teenagers saying they expected to skip school on Monday to give them time to finish school, and to prevent spoilers from getting their thrill by spoiling the book for others.
Sadly I felt I had to read the entire book before going back because I am surrounded by Harry Potter fans, who would have intentionally, and accidentally ruined the book for me.
They can't do it now! Ha!
Harry Potter Deathly Hallows - Review
Nice book. Nice ending to a book, and very nice ending for the series.
There must be sacrifice, and people must die, even those we care about. There really is no escaping death, but we can live a life worth living, and we can celebrate life, and be celebrated even after we have departed.
The last book was a bloodbath, and many beloved characters died, but the story itself achieved closure. The Harry Potter series is indeed a classic. A hundred years from now I see teachers inspiring their students to read by having them read the Potter series. I'm sure that children, and adults alike in future generations will find the series as fun as we have. We've been very fortunate to have lived in a time in which this series was introduced.