International Space Station Over Springfield, IL 08/21/2007
In the lower right hand corner of the image above we see the Moon, Jupiter and the star in the upper right may be Zeta Ophiuchi .
The long white streak in the center is the International Space Station. The ISS doesn't actually appear as a streak in the sky. The ISS appears as a very bright dot - similar to an aircraft. The white streak appears in the image only because I kept the lens on my camera open long enough to capture the night sky.
The ISS may not look like much in the image above, but the ISS was actually brighter in appearance than Jupiter appearing above the moon. The ISS is moving, and the CCDs in the camera were soaking up much more static light from the Moon and the planet than the moving ISS.
The photo was taken looking to the south. The space station was crossing West to South East which explains why the light streak slashes downward right to left.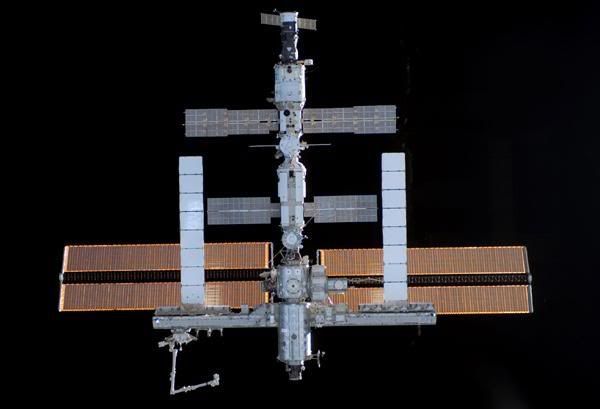 A Closer View of ISS From Space
I want to thank Dave of
The11thhour
! He's very consistent in pointing out when to look for ISS, and without his post earlier this week I wouldn't have caught ISS this time around.
For those still interested the ISS will be available for viewing in the Springfield, Illinois area tomorrow night (see the chart, and helpful graph from NASA below). There will be less time to view it, and it will appear lower in the sky. The Moon won't make it any easier to see Wednesday night either. Still, it's worth the few minutes of effort needed see it. Simply step outside, and look into the sky at the right time, and in the right direction, and you'll be in for a treat that you'll never forget.
The ISS is so bright that I could have seen it through a window and never even stepped foot outside my home tonight.
.
.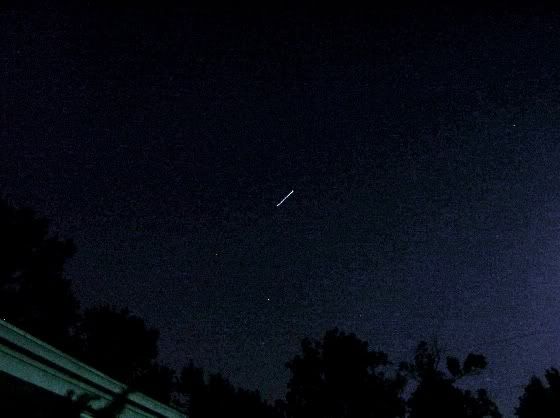 Jerome, Illinois - International Space Station - August 21st, 2007
I took several images of the ISS, and so here's another one (above). In the center of the image above we see the International Space Station appearing once again as a streak of white. You'll note that the background stars appear as individual dots. The International Space Station was moving "downward" toward the south eastern horizon.
This photo includes the tops of trees at the bottom of the image, and even a portion of a home lower left. Except for the Moon, which is off to the right of this image, the ISS was the brightest light source in the sky at the time. If you know when and where to look, and the weather is in your favor viewing the ISS is easy to do.
The International Space Station took three minutes to cross the sky tonight.
Odds and Ends
Springfield, Illinois
latitude
is 39.801N. The longitude is -89.643W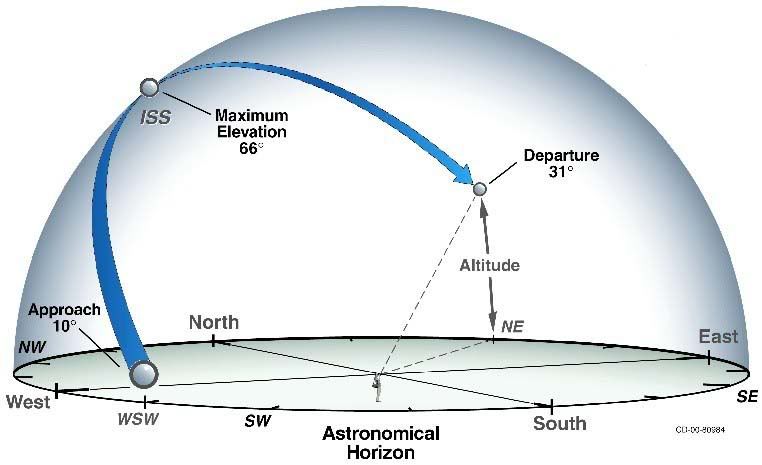 ISS Helpful Chart

THE FOLLOWING ISS SIGHTINGS ARE POSSIBLE FROM SUN AUG 19 TO FRI AUG 31
| | | | | | |
| --- | --- | --- | --- | --- | --- |
| SATELLITE | LOCAL | DURATION | MAX ELEV | APPROACH | DEPARTURE |
| | DATE/TIME | (MIN) | (DEG) | (DEG-DIR) | (DEG-DIR) |
| | | | | | |
| | | | | | |
| --- | --- | --- | --- | --- | --- |
| ISS | Sun Aug 19/09:40 PM | 1 | 41 | 23 above WNW | 41 above WSW |
| ISS | Mon Aug 20/08:28 PM | 4 | 47 | 24 above NNW | 14 above ESE |
| ISS | Mon Aug 20/10:03 PM | <1 | 12 | 10 above WSW | 12 above WSW |
| ISS | Tue Aug 21/08:51 PM | 3 | 46 | 29 above W | 21 above SSE |
| ISS | Wed Aug 22/09:13 PM | 2 | 14 | 11 above W | 12 above SSW |
| ISS | Fri Aug 24/08:24 PM | 2 | 14 | 13 above WSW | 10 above SSW |