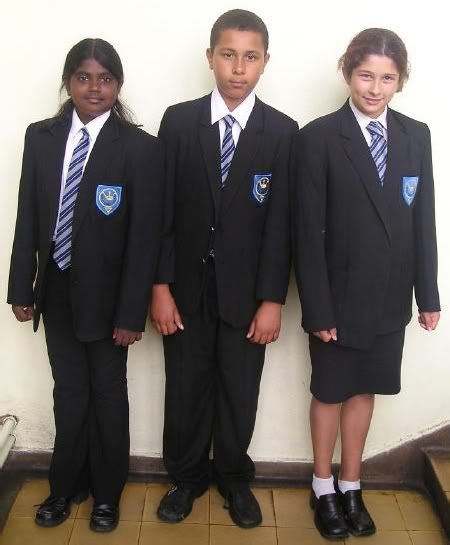 These Kids Look Great In Their School Uniforms
The following list obtained from
an interesting article at SJ-R
What not to wear
Springfield School District dress code for 2007-08 (excluding schools with uniform policies):
Clothes and grooming shall not contradict curriculum goals, educational objectives or "advertise, promote or picture" alcoholic beverages, smoking, drugs or violent or illegal behavior.
Clothes, grooming and accessories shall not display "lewd, vulgar, obscene or plainly offensive language or symbols, including gang symbols."
No hats, caps, bandannas, sweatbands, sunglasses, pajama pants, slippers or shoes with wheels.

No pierced jewelry, other than earrings "worn in the ear."
No spiked apparel "and accessories."
No chains "that can be used as weapons."
Shoelaces should be tied.
No coats and jackets worn inside without principal's permission.
No clothing with: holes, ragged hems or cut-off hemlines, fishnet or transparent fabric.
Clothing shall not expose: the chest, abdomen, genital area or buttocks, legs above the mid-thigh.
No oversized, "extremely" baggy or improperly fitted clothing. Pants, shorts and skirts must be worn at the waist.
No sagging pants.
Tattoos that violate any provisions of the Dress Code must be covered at all times on school property or during school-sponsored activities.
School Uniforms Promote Purpose, Order, and Success
My Take on the Issue of School Uniforms
The list above addresses too many possible infractions, and ends up being ignored in the end. This could all be replaced with uniforms. Mandatory Uniforms for Springfield, Illinois high schools is a great idea. That and periodic, and random mandatory drug testing for all students would go a long way towards addressing long standing problems which have driven many parents to keep their children out of our city's public schools.
This from the UK - Uniforms Are Simple
School Uniform
Students are expected to wear school uniform on all school occasions. The uniform has been carefully chosen, in consultation with students, to be smart, practical and reasonably priced.
All parents are asked to ensure that their child wears the complete uniform to maintain the high standards of smartness that supports the high reputation of our students in the community.
Parents should note that no jewellery is allowed, except for a watch, 1 signet ring and a single stud earring per ear. No caps or bracelets are allowed except those worn for religious reasons. Nose piercing and extremes of hair sculpture are not permitted.
Buying your school uniform
Some items are only available from the school and others can be bought from the school or from Department Stores, giving parents as wide and competitive a choice of suppliers as possible. School uniform will be on sale at the New Year 7 evening and at the end of the 'Practice Days' and sports afternoon. All items of uniform should be clearly labelled with your child's name
Items marked with * are available frrom the school

Boys
Black blazer -(with The King's School Badge *)
Black trousers
Black shoes(not boots)
Blue Shirt
Black school sweatshirt *
Black socks
The King's School tie *
Girls
Black blazer- (with The King's School Badge *)
Black skirt
Black school sweatshirt
Blue shirt
Black shoes(not boots)
Black trousers
black ordinary tights
The King's School tie *
Black/white socks

A strong school bag is also needed for carrying books and equipment.
Individuality Is Bunk
Children, and teens need a sense of purpose, and a sense of belonging. Gangs, and drugs, and the culture of death have filled the void of American society over the last half century. It is time to restore what was once a compact between one generation, and the next. Tradition is a good thing, and schools are one of the few institutions which can instill a sense of social inheritance, and tradition in children. Uniforms are the physical manifestation of tradition, order and purpose, and should be made mandatory for use in all elementary, middle, and high schools in the United States.