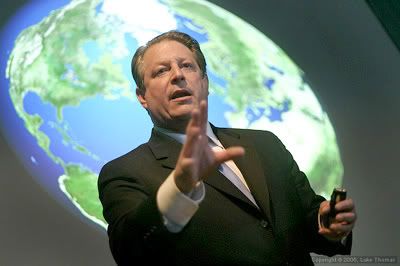 Al Gore - Environmentalist
"The planet has a fever. If your baby has a fever, you go to the doctor. If the doctor says you need to intervene here, you don't say, 'Well, I read a science fiction novel that told me it's not a problem.' If the crib's on fire, you don't speculate that the baby is flame retardant. You take action". -Al Gore-
Al Gore has been my "Guest Prophet" here on JeromeProphet for several months now. I could say many things about Al that are political, but I won't. I'll just say that I believe future generations will look back upon Mr. Gore with respect. That's not always the rule with former elected representatives.
.
.
Former Vice President Al Gore
From the way Al Gore stepped down from the brewing controversy surrounding the 2000 presidential election to the way he chose to reenter public life as an advocate for responsible public policy regarding global warming - I could only be impressed.
To me, Al Gore is like a shining light piercing the darkness. He is a modern David fighting against the Oil and Coal Goliath. The stakes are incredibly important. Allow the fossil fuel industry to continue their death grip on the people of the Industrialized world, changing the world climate in the process, or move away from fossil fuels toward a sustainable, and ecologically healthier approach? That's the question which this generation is presented, and it's Al Gore who keeps asking the question.