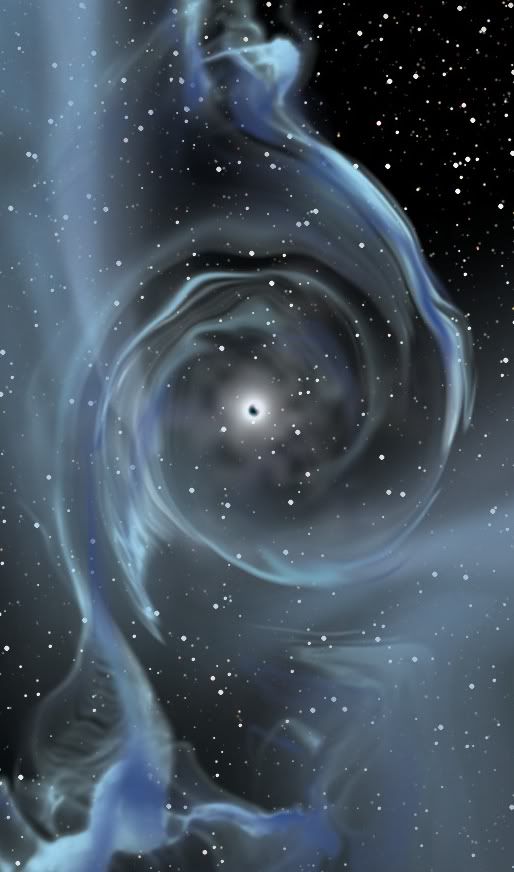 Will NASA Unveil A Chandra Image Similar To This Black Hole Rendition?

NASA To Make Major Nerd Announcement
A somewhat mysterious media advisory was posted to NASA's website. Rumor has it that it may be the first
direct
observation of a black hole! O.K. admittedly this is for nerds, but it's still very interesting - or at least I think so. While black holes are fairly common, and the effects which they have on surrounding matter is well documented the direct observation of a black hole would be a first.
Here's the
announcement
:
MEDIA ADVISORY : M08-089
NASA to Announce Success of Long Galactic Hunt
WASHINGTON -- NASA has scheduled a media teleconference Wednesday, May 14, at 1 p.m. EDT, to announce
the discovery of an object in our Galaxy astronomers have been hunting for more than 50 years.
This finding was made by combining data from NASA's Chandra X-ray Observatory with ground-based observations.
To participate in the teleconference, reporters must contact the Chandra Press Office at 617-496-7998 or e-mail
mwatzke@cfa.harvard.edu
. Live audio of the teleconference will be streamed online at:
http://www.nasa.gov/newsaudio
A video file about the discovery will air on NASA Television on May 14. NASA TV is carried on an MPEG-2 digital signal accessed via satellite AMC-6, at 72 degrees west longitude, transponder 17C, 4040 MHz, vertical polarization. NASA TV is available in Alaska and Hawaii on AMC-7 at 137 degrees west longitude, transponder 18C, at 4060 MHz, horizontal polarization.
For information about NASA's Chandra X-Ray Observatory on the Web, visit:
http://www.nasa.gov/chandra
- end -