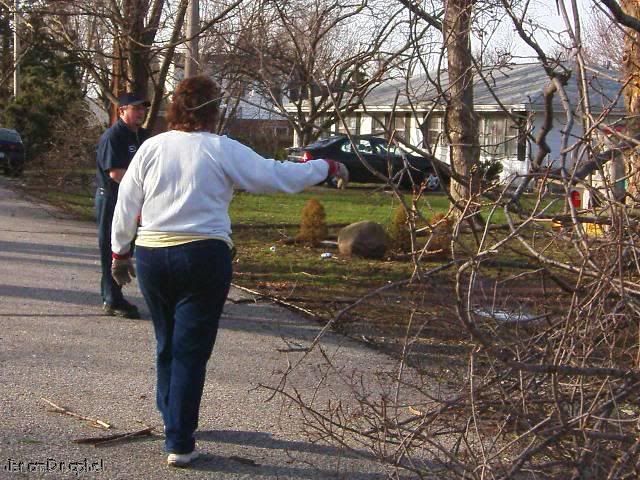 Photo: Jerome, Illinois - Corbin Street Resident Surveys Tornado Damaged Trees.
At the corner of Corbin and Reed a homeower had already employed a landscaper to cut through a fallen tree which was blocking access to her garage, and truck This was at eight in the morning, and it was an impressive sight. Several other individuals were assisting in hauling away branches.
Photo: Jerome, Illinois - A Workman Chain-Saws A Path Through Branches To Garage.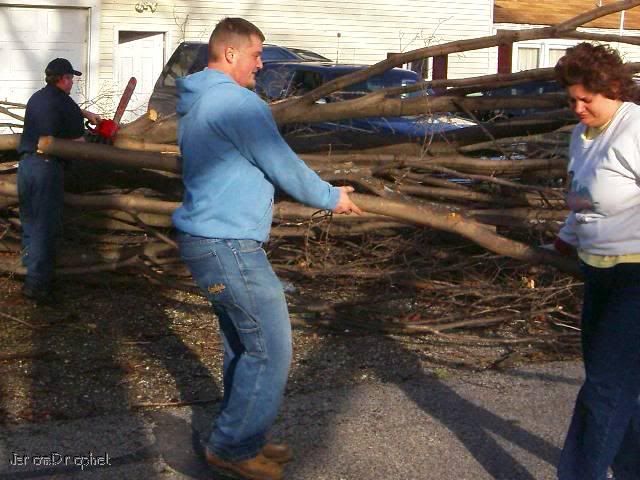 Photo: Jerome, Illinois - Residents Haul Branches From Tornado Debris On Corbin.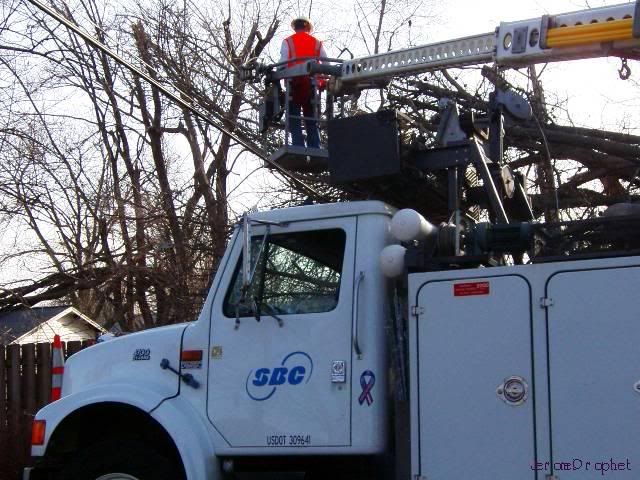 Photo: Jerome, Illinois - SBC Crew On Corbin Street Repair Tornado Damaged Lines.
Only a few yards south on Corbin several SBC trucks were on site cutting away downed trees, and repairing damaged telephone lines.
Photo: Jerome, Illinois - SBC Worker Rides Within A "Cherry Picker" To Trim Branches.
While power lines were down, and these workers were not in danger of electrocution I still found their efforts impressive, and heroic. To find at such an early hour so many people working to restore power, and telephone service was a welcome sight.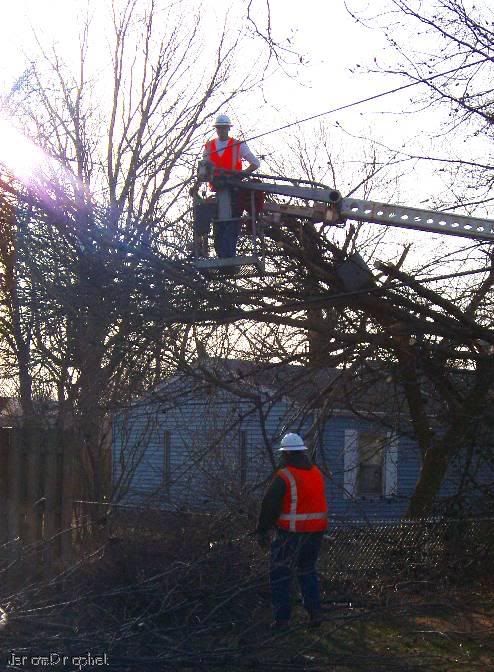 Photo: Jerome, Illinois - SBC Works To Restore Telephone Service.
The photograph above is my favorite of the series, which is why I'm allocating so much space to it. SBC my hat is off to your fine workforce for helping to reconnect the Village of Jerome, Illinois to the outside world when we needed it the most!
Jerome, Illinois' 2006 Tornado - Wabash Avenue I
Jerome, Illinois' 2006 Tornado - Wabash & Chatham
Jerome, Illinois' 2006 Tornado - W. Jerome Ave
Jerome, Illinois' 2006 Tornado - Corbin & Jerome
Jerome, Illinois' 2006 Tornado - Corbin Street
Jerome, Illinois' 2006 Tornado - Reed Avenue
Jerome, Illinois' 2006 Tornado - Jerome Municipal Building
Jerome, Illinois' 2006 Tornado - Vernon Avenue
Jerome, Illinois' 2006 Tornado - Fillmore Street
Jerome, Illinois' 2006 Tornado - Glenn Avenue
Lauterbach Tire & Auto's Headless Giant