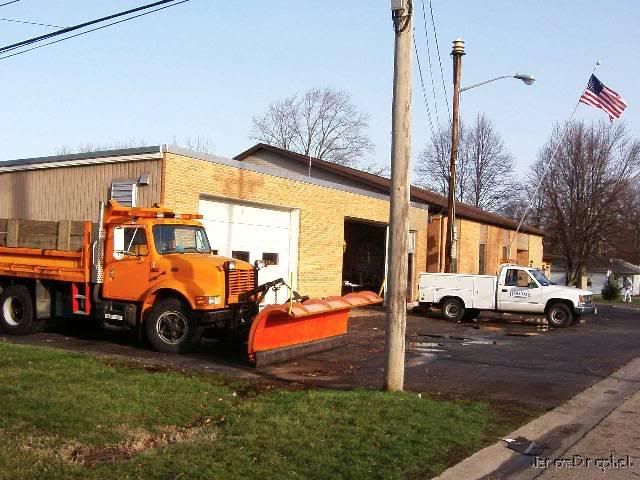 Photo: Tornado Tilted Flag Flying Over Jerome's Municipal Building 8:00 A.M. 03.13.06
Jerome Illinois' Municipal building was a hub of activity on the morning of March 13th, 2006. The Village of Jerome was struck by an F2 Tornado, and significant damage was done to many residences, and businesses throughout Jerome, Illinois.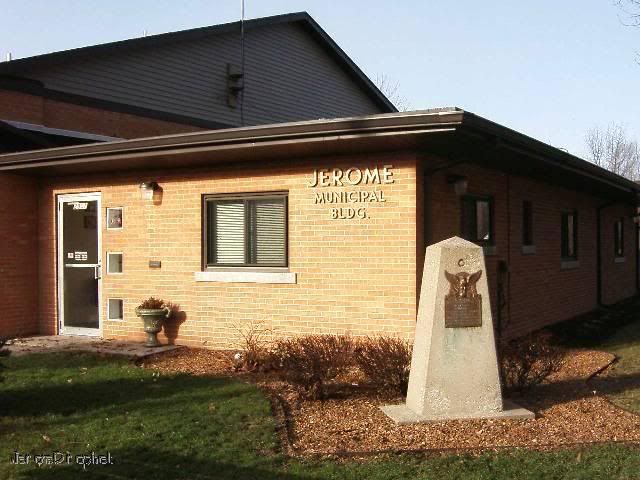 Photo: Jerome, Illinois' Municipal Building Was Powerless But Undamaged By Tornado
Photographs included in this post were taken at aproximately 8:00 A.M. on the morning of March 13th, 2006. The entire Village of Jerome, much of Springfield, Illinois, and Leland Grove were without power at the time this photo was taken.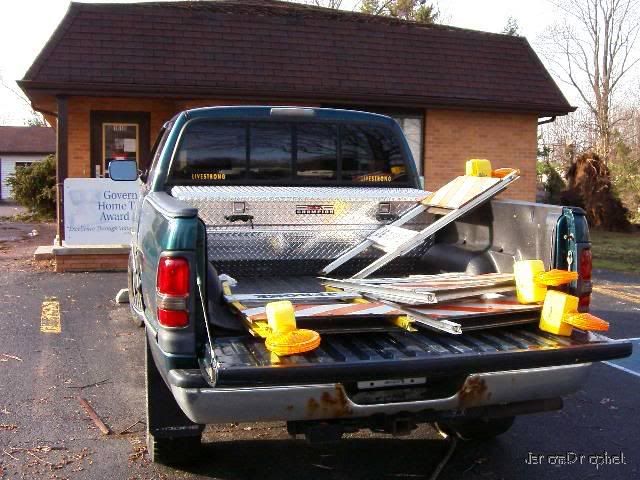 Photo: Not Bushes, But Fallen Trees Behind Jerome, Illinois' Police Headquarters
The third photo in this post shows a pickup truck with road construction barricades, and warning signs in its bed. The truck is parked in front of the Jerome Police Department's office building. Notice that what looks like shrubbery at the rear of either side of the building are in fact a very large pine trees felled by the tornado which struck the Village the night before.
Note the warning siren in the top photo? I credit this siren with helping to warn my family of the serious nature of the storm. The sound of warning sirens, the atypical "rolling thunder", and Gus Gordon's (WICS) tone of voice made it clear that the oncoming storm was no ordinary thunderstorm! No, this storm was an oncoming MesoCyclone spawning several tornados, and it wasn't breaking up, or running away just because Springfield, Illinois is in a valley.
Jerome, Illinois' 2006 Tornado - Wabash Avenue I
Jerome, Illinois' 2006 Tornado - Wabash & Chatham
Jerome, Illinois' 2006 Tornado - W. Jerome Ave
Jerome, Illinois' 2006 Tornado - Corbin & Jerome
Jerome, Illinois' 2006 Tornado - Corbin Street
Jerome, Illinois' 2006 Tornado - Reed Avenue
Jerome, Illinois' 2006 Tornado - Jerome Municipal Building
Jerome, Illinois' 2006 Tornado - Vernon Avenue
Jerome, Illinois' 2006 Tornado - Fillmore Street
Jerome, Illinois' 2006 Tornado - Glenn Avenue
Lauterbach Tire & Auto's Headless Giant