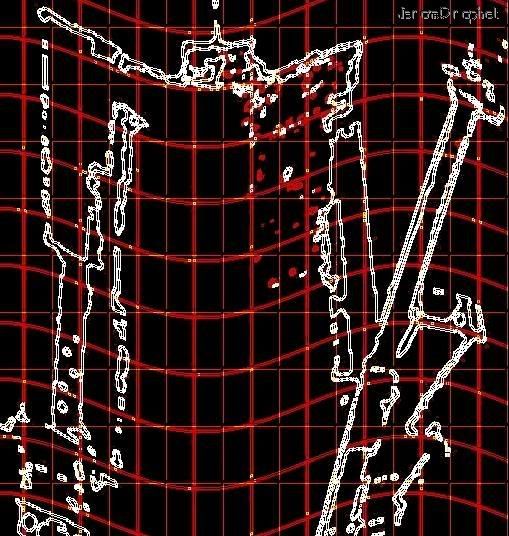 Image: Image Of Robot In A Laser Containment Field?
So many times in my life I've watched apathetically as society's problems drift into my view only to look away. Someone else's problem, I'd always say! Someone else will fix it, I'd think - yes think - just before reaching for the remote. But no more, not this time!
This time it effects me, and the town I love! No, not Jerome - Springfield, Illinois!
Please read my
EXCLUSIVE prior post
exposing the secret construction of a
gi-normous
clocktower-robot in the heart of downtown Springfield, Illinois!
I have recently discovered that a huge one hundred foot tall transformer robot is secretly under construction within the Union Station Clocktower!
This incredible project has been conducted in total secret despite hundreds of thousands of visitors to the Abraham Lincoln Presidential Library & Museum passing under the robot's cold metalic gaze!
I have written Springfield's Mayor Tim Davlin expressing my concerns, and making a plea for the robot's construction be stopped. Yes, stopped, and before it's too late!
For goodness sake people this is madness - sheer madness!
My letter (edited version) to Mayor Davlin:
Mayor Davlin,
While I don't actually live in Springfield I work in downtown Springfield. I've always enjoyed Springfield's safe, and friendly atmosphere. I've also taken pride in the historic ongoing improvements to downtown Springfield's look.
Yet frankly, I've become aware of a very disturbing development to which I must make comment - actually it's a plea.
Please Mr. Mayor do something now to stop the construction of the massive one hundred foot tall transforming clocktower-robot!
I can not for the life of me understand why any city anywhere on earth would ever want a huge robot, armed with a massive lance, at the heart of its downtown historic district.
Surely, those who secretly agreed to its construction must have been persuaded that it would be used to stand guard over the Abraham Lincoln Presidential LIbrary & Museum.
Yet, what if the robot goes bezerk? We'll no longer have an air national guard unit close enough to protect us if any type of malfunction occurs!
I've included a link (below) to a photograph which I myself (please forgive the poor photo-quality) took of this gi-normous robot currently under construction.
I implore you Mr. Mayor to do all that you can to stop its construction before it's too late.
JeromeProphet
I recieved the following response:
Mayor Timothy Davlin
Thank you for writing me to voice your concerns about our city. I want to assure you that we will look into your inquiry and determine what action is appropriate.

We cannot act without knowing which problems or issues need to be addressed. Your input has been very valuable to us because it reveals issues which we might otherwise overlook.

Thank you for being conscientious in helping make Springfield a better place to live.
No, thank

you

Mayor Davlin for listening, and taking action when I had all but given up hope!