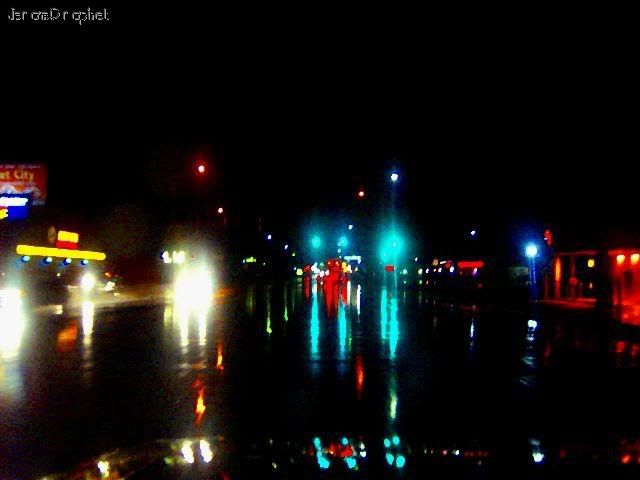 Photo: Macarthur Blvd @ Night In Rainstorm - Springfield Illinois 08.18.06




Race Against Storm
Last night I found myself racing across town to pick up my teenaged daughter from the Illinois State Fair (2006). A thunderstorm was bulldozing across Sangamon County, and it looked as if Springfield, Illinois would be effected. I barely convinced my teenaged daughter that it was time to call it an evening, but she reluctantly agreed to let me pick her up in front of the
Walgreen's Drugstore at the corner of 9th street, and Sangamon Avenue.
I hydroplaned over rain covered streets at speeds far higher than I dare admit. It was a race between me, and the storm. As I drove into the parking lot of the Walgreen's Drug Store located just across the street from the Fairgrounds the rain, and wind, began to intensify.
My daughter jumped into the car wet, but not soaked - I had beaten the storm!
Conversation
ME
: Is it just you? What about your friends?
DAUGHTER:
Oh, they're going to stay. You should have seen the look they gave me when I said I was going to go home because of the storm.
ME:
Well that's not too smart with all this lightning in the sky.
DAUGHTER:
They're dumb.
ME:
Yes, they sure are, but I raised a smart kid.
My thoughts shifted to the road, the rain, and the large number of cars exiting The Illinois State Fairgrounds.
Gang Attacks Teen Outside Illinois State Fair
About the same time my daughter, and I arrived back home my daughter became quite upset. She was on her cell phone, and speaking to one of her friends that had decided to stay.
One of the three teenagers which my daughter had attended the Illinois State Fair with had just been attacked by a mob of nearly

twenty

black
teen males!
*
The location of the attack was at the very spot which I had picked up my daughter only a half hour earlier!
The gang descended upon the victim repeatedly punching the boy. The attack continued for several minutes with several boys attacking at once. The victim was unable to defend himself. They took the victims cellphone.
Two of the victim's friends, a teenage girl, and her little brother, witnessed the assault. Although the Walgreen's Drugstore was still open for business the entrance was locked.





Most shocking allegation of all



This story is just getting started. Please read the
next post which continues my blogging on this event
! A rather disturbing allegation has been made by several witnesses about the way the assault was handled by police.

*NOTE:
Identifying the race of a group of individuals isn't racist. It is providing important information about the event. Why is race important? When one individual is attacked by a large group of individuals of a different race it does raise the possibility of that attack being motivated by racial hatred.